Someone once said that a vacation is anything you do that is outside your normal range of work. I guess that means I'm on vacation. At least that's where I planned to be this week.
I've written about routines before including: Routine Sets You Free, Precision and Discipline, Accountability - The Value of Routine, and Weekly Pulse – Work Rhythms Take Advantage of Natural Energy Flow
On Tuesday of last week, shortly into my hospital sojourn, I must admit I'd given up most of my normal routines. Quickly I could see that unless I took control of what I could, putting as many of my normal routines in place, I would be susceptible to losing control of my life. I suspect that perhaps that is one of the most damaging aspects of being in a hospital: feeling you are not in control.
Kevin my Physician Assistant immediately made me aware that I would discover that in a hospital you are frequently not in control of what you do and don't do. At the same time he is also the first one to point out to me that if I was feeling well there was no reason why I couldn't continue to work with my clients. He gaveth and he taketh away. He may not have realized how critically important his giving would be to me.
Immediately I decided to make some changes in how I conducted myself in the hospital.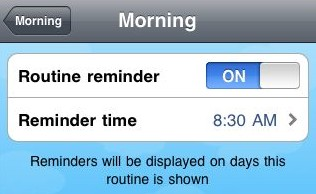 I asked one of my nurses what was required attire. He answered there were no restrictions. You could wear what you wanted. After a short time wearing the nursing gowns and robes I quickly decided that each day I'm going to get up, shower and put on clothes that I would wear at work or at home. I realize I need my rest here, and I've backed off on getting up before 6 AM each day. However I believe what I wear impacts how I feel. If I'm wearing hospital gowns all day wouldn't that impact how I feel? I don't want to be sick. I want to feel healed, alive and well.
So each day I shower and dress early. Several people have remarked,"You don't look like one of our normal patients!" I take that as a compliment. I ritually read my affirmations and quarterly priorities as well as my daily priorities which I've established at the end of each day.
I recall a quote from The Power of Full Engagement, "The bigger the storm, the more inclined we are to revert to our survival habits, and the more important positive rituals become."
The power of Strategic Discipline is in the routines and rituals it provides your business. Most of us won't do what we are supposed to do. Rituals and routines provide the consistency and discipline to accomplish that which we would not do without these benchmarks in place.
Routines extend to our family. Perhaps the biggest routine I miss is our traditional evening meal. My wife Michelle made sure we ritually had our evening meal together each day. We regularly conducted an informal daily huddle that included victories, and stucks. What was the highlight of your day started many lively discussions around our table.
Meeting rhythms are similar to this family meal. With the proper agenda, every meeting can be a powerful opportunity to grow your business. Yet they need to be aligned with the priorities of your organization. Don't give in to the fear that routine can be tyranny. I only wish I had the option to follow my full routine each day now. I'll be happy when I can again. Routine can set you free.
Want to execute properly? Make sure your business has disciplined routines that enforce your standards for achievement. Follow the fundamentals of Strategic Discipline: Priorities, Metrics & Meetings.
Last week one of my client's executive team members presented I slide show I'd helped him create on Aubrey Daniels Bringing Out the Best in People. He did a superb job. It reminded me of a myth he offers in the book. People resist change? Do they? That's next blog.