Yesterday my reality check came.
Before I tell perhaps the expected outcome, what key performance indicator are you vigilantly watching to make sure you have reality firmly in your grip?
Do you monitor cash flow religiously? Do you have a dashboard for it? Do you monitor your sales pipeline? Do you have a method for measuring customer service? How do you employee performance? Have you identified your flow chart of 4-7 critical system that drive your business? Do you have KPI's to monitor the essential elements of these? Do you measure Employee Engagement? Have you identified your top priority for the year and quarter and are you measuring your progress toward attaining these? Do you make sure you have balance in your Key Performance Indicators so that your top priority doesn't mean the business loses focuses on other key areas of your business?
Ultimately this is the discipline you need for your business to achieve success. You need to develop the key strategic disciplines of priorities, meetings and metrics to keep your business performing at a high level.
The leading indicator that led me to see the doctor and ultimately get me to treatment was my blood sugar count. That was my leading indicator there was a problem.
What key performance indicators alert you that action needs to be taken?
Finally the diagnosis to my health issues is I have Acute Myeloid Leukemia. At approximately 9:45 PM last night my chemotherapy treatment began.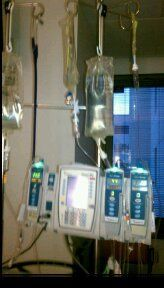 Here's my plan:
My Number one Priority (Remove the Cancer - Get myself healthy)
Have my team of physicians and nurses be responsible for monitoring my condition with meaningful metrics.
Meet with my physicians and nurses in regular meeting rhythms to make sure I stay on track.
Sounds like Strategic Discipline doesn't it?
I hope to prove to you and myself that by following these disciplines I cannot only eliminate my cancer, beat it, but get back to full health and recovery.
That's my plan. So far I feel good and my outlook is positive. I expect down days, however I fully intend to beat this and hope to be able to continue to coach my clients, if possible, within the next 30 days. There may be days I can't meet my expectations nor theirs. I intend to be honest with them. In fact my Physician Assistant has created several tests he plans to administer to me to make sure I'm fully coherent and capable of working with my clients.
It occurred to me that a similar test might not be a bad idea to conduct on ourselves and/or our employees. A method to ensure we're mentally prepared to meet the challenges of work each day. It's an idea that's very closely resembles the Daily Huddle. I'll fill you in on that next blog.