Many experts, including Good to Great author Jim Collins, feel People is the most critical of the four decisions you need to get right to grow your business.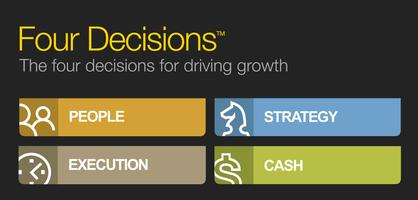 In Good to Great Collins said, "first who then what." The results of having the right people can be seen in many of aspects of your business, yet its most easily recognized in your culture and in how much fun it is to come to work.
Do you enjoy the people you work with?
Are the people you work with as performance oriented as you are? Do they have a passion for what your company does?
When you identified your Core Values (you've done this right?) you should immediately get a sense for what is important and valued in your company. When people don't share the same Core Values it's readily visible in their dedication and commitment. Are they looking at the clock ready to fly out when the business closes? Do they volunteer for projects or work late?
Since Collins suggests getting People right is critical, you should not take this lightly. In building a Good to Great Company it's more important to have the right people working for you then selecting the type of business you're in. Rockefeller Habits tools we use to help our clients get alignment on the right people include: Core Values, Core Purpose, Actions to live Core Values, Purpose, BHAG, Key Seats Discipline, Topgrading and a number of Employee Engagement tools from Gallup.
Do you have the right people on the bus? Are they in the right seats doing the right things right? If you answer yes, you've got the People Decision solved. If not do you need help?
Next of the Four Decisions is Strategy. The right Strategy can provide your business with rocket like growth even when you don't have the other Four Decisions properly in place. You'll want to discover why in our next blog.
Click on the button to discover the method for aligning your team and transforming your company – in just one day!