If you're a small to mid-sized business owner you probably have a number of aspirations for your business. To build it so you can spend your time doing what you love most while the business runs consistently and predictably without you. Or it may be to watch it grow to achieve success humming along like a well-oiled machine. The dream of many small business owners was outlined in Michael Gerber's book The E-Myth Revisited, Why Most Small Businesses Don't Work and What To Do About It. Ultimately you want to be in a position to invest most of your time working ON the business rather than IN it.
Gerber outlined a lot of essential pieces to construct the puzzle for business, especially small business owners by creating systems. As a senior E-Myth consultant for almost ten years I saw how well and how challenging this process was for small business owners. What was not particularly evident was a simple list of elements to complete in order to achieve this consistent predictable business. Gerber's 21 E-Myth Modules were very helpful, however they didn't offer a clear group of specific practices that business owners could keep in front of them to measure their progress toward this frequently elusive goal. In effect Gerber didn't create a system to measure your progress on the path to achieving the goal of having this system developed business.
Wouldn't it be great to have some form of measurement to grade how well your business is doing toward achieving this ultimate goal?
The Rockefeller Habits Checklist provides a simple group of elements to check and score to discover how close you are to achieving your aim of a consistent, predictable business model. At a 9 or 10 grade on each of the ten elements you are about as close to attaining business nirvana as is possible. This may be the ultimate point to sell your business, since nothing stays the same, and once you've achieved this stage you are certain to continue in the direction of getting better or worse.
The results of following this Checklist can be viewed here, as Alan Rudy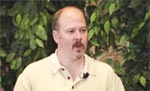 describes the outcome of following the Rockefeller Habits Checklist in building Express-Med. He's since sold Express-Med and launched two other successful companies using the Rockefeller Habits principles. Check out his success.
Is your goal to reach a high degree of consistency and predictability in your business? Take a moment to download the checklist and discover how well your business is meeting the criteria to achieve this.
One of my favorite Gerber quotes is, "You can't manage want you don't measure, and what you don't measure you don't understand." If you really want to achieve this ultimate place in your business do you truly understand what it will mean when you achieve it? Isn't it time you began to measure your progress on the journey to your objective?