Each of us is different. We are not all motivated by the same thing. It's a lesson that Aubrey Daniels consistently reinforces in Bringing Out the Best in People. It's the reason managing people is so challenging. It requires thoughtful observation, persistent communication and enduring energy to discover and maintain relationships that support and encourage your people to be their best each day.
Fundamentals in business success frequently duplicate sports success. Legen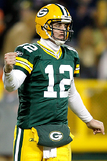 ds in sports frequently make the business speaking circuits simply because the competitive nature of business is echoed in sports. As a Packer fan I found a recent article on Aaron Rodgers understanding of human behavior mirrors Aubrey Daniels theme of discovering what motivates each individual. It's a key to success. Great leaders in sports and business understand the fundamentals well and apply them. Read Rodgers learns 52 ways to motivate teammates to discover how one of the best NFL quarterbacks understands how to encourage and motivate his teammates. His recognition that what motivates one person does not necessarily motivate another is exactly what we and each of our managers need to do to get the best out of the people we work with.