How would you go about measuring fun in your workplace? Do you even consider it important to measure? Why would you measure fun? Is fun disruptive or an efficiency increaser?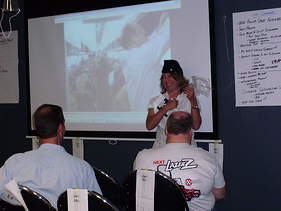 What's the number one problem in most businesses? The answer: Communication. Employee feedback is a crucial success element that Strategic Discipline integrates into the meeting rhythms of your business.
It might be difficult to believe that when employees are having fun at work productivity increases. Yet that exactly what Todd Klein indicated was the result when a company he chronicled in Built for Change measured the number of informal interactions inside their company. As interactions increased, so did employee productivity.
A recent Harvard Business Review study noted that 90% of company profits come from front line employees. It seems reasonable to assume keeping your front line employee's happy is an integral part of success.
In The Power of Full Engagement getting up to speed on any project requires 25 minutes. We are interrupted every 11 minutes. Clearly there's a balance that needs to be in place between these information communication activities and performance levels.
Todd Klein cited a recommended practice we suggest to our Gazelles clients that Tony Hsieh of Zappos employs every week. Take an employee to lunch! It builds commaradiere, fosters interest and cultivates feedback.
Recall the Best Buy story on how improving employee engagement by just two per cent yeilds $70 Million in profit? Perhaps it's time to consider a measurement for fun or at least a metric on employee engagement. If you're interested in developing the fun factor at work consider having your business invest in themes. This is another Gazelles tool we recommend to our clients.
In Ten Transforming Questions we asked: Write the single word that captures the idea of universality in your business. We'll explore this single word idea next blog.