Imagine it's the biggest moment of your life. Your opportunity for glory. The moment professionally you've practiced and prepared for. Now imagine it's in front of a live audience and millions of TV viewers. In fact it's the biggest stage in the world! It's a critical moment for you and the people you work with.
Imagine you fail! Watch this video of John Riggins 43 yard run in Super Bowl XVII. The Dolphin player who comes up to attempt the tackle on Riggins is Don McNeal. It was 4th and 1 with Miami leading 17 -13. As McNeal described it, "stop this play and Miami would be Super Bowl champs."
How you respond, to adversity, the choices you make, determines your life.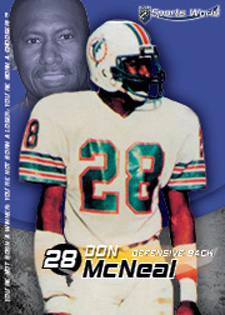 That's what McNeal's message is to middle and high school students. Last week over the course of three days Don McNeal described this moment to thousands of impressionable students. It's part of a program called Sports World that several business partners and I sponsor each year to help young students make good choices in their lives.
Concluding Don's speech he asked students to complete a card Sports World provids and tell him to comment about his presentation, if they are having trouble in the areas of making good choices and finally who they trust the most. At two of the schools Don spoke at several students revealed in their comments that they were having challenges. Challenges severe enough we informed their schools about their comments in hopes that they would address their concerns.
Had Don not spoken could something more serious happen? One of my clients last year revealed that his son discovered one of his friends was having challenges in his home life and threatened to commit suicide. It took a great deal of courage for his son to even tell his father about this. Fortunately he did and my client was able to get this boy the help at school to prevent him from doing damage to himself and his family.
What's that got to do with my business Doug? Plenty. Employee Engagement is critical to the success of your business. It's been revealed that 90% of a company's profitably is generated through the efforts of your front line people. Every interaction your people have with your customers determines their level of satisfaction. Will your customers come back if your staff is having a bad day?
What's going on in the lives of your employees? Do you take time to honor them? Do you appreciate them for the time and dedication they offer your business?
We've explored the 12 rules of great management which govern employee engagement previously. We put this in terms that provide quantifiable proof that engaged employees help your business perform better and be more profitable.
No matter how big or small your business is, is it time to discover how engaged your employees are? Can you increase the engagement of your people and impact the results your business is generating. Send me an email with "12 Employee Engagement questions" in the title and I'll be happy to send you Gallup's 12 employee engagement questions. Or you can go to my website to view them here.