We've looked at the importance and frequency of positive reinforcement in previous blogs, How the Best Managers and Leaders Deliver Positive Reinforcement and Employee Feedback – The Need for Frequent Positive Reinforcement. Employee Feedback falls into Strategic Discipline's fundamental practices for effective meeting rhythms. When we address customer and employee feedback in workshops and with our clients, frequently there's confusion and misunderstanding about what this means. It's often because companies have their rhythms with regard to employees and staff and forget how critical their happiness and engagement can impact the bottom line growth of their business.
Don't get caught in the trap of ignoring employee feedback. As pointed out in How the Best Managers and Leaders Deliver Positive Reinforcement small things add up.
In today's demanding economy with an all-out focus on results, all this talk about positive reinforcement might be considered as a bunch of who-ha to you. You're thinking you have to have punishment at times; it's an absolute requirement to get things done.
I'm won't disagree there are times punishment or negative reinforcement is impactful. The question to resolve is how frequent should we use it and what can we do to make sure we are delivering frequent enough positive reinforcement in our work place?
The answer to the last question is simple. Measure it. [Strategic Disciplines Metrics] Keep a 3 X 5 card in your pocket and mark down all your attempts to provide positive reinforcement and punishment each day. Better yet do it individually, for each person you supervise. Discover how frequently you are providing positive reinforcement. You will probably be disappointed in the frequency you are providing. Remember that six an hour positive reinforcement number students were getting to learn match compared to the fifty they require to reach competency discussed in Employee Feedback – The Need for Frequent Positive Reinforcement? Do you suppose you're targeting six positive reinforcements each hour in your department, let alone six per employee? Are you doing it as immediately as possible and in the work environment?
What is the proper ratio of positive to negative reinforcement? In other words how many "way to go!" should you deliver to "man you really screwed up?" Once again let's refer to the expert on human behavior, Aubrey Daniels. He cites a study by Madsen in 1974 that discovered in training classroom teachers those that had a positive reinforcement to punishment ratio of 4 to 1 or better, had good discipline and high achievement levels.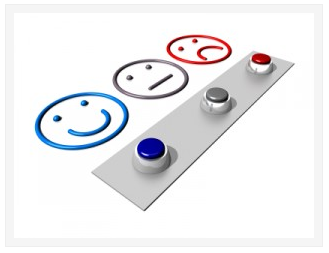 A 1995 Study by Hart and Risley found in a vocabulary study young children dramatically accelerated when the ratio of positive to negative interactions was high, in their study a 6 to 1 ratio.
It would be hard to argue that more is better based on these two studies. The reality in your job place may be in stark contrast to either of these. The question is do you know what it is?
Perhaps you can start to measure it and begin reporting it in your daily huddles. Start with a 3 X 5 card and begin recording your positive and negative reinforcements. That alone will be revealing. You may just discover that the environment you thought was nurturing is far less than you expected. There may be significant room for improvement.
Where does one start to work on positive reinforcement? At what levels of the hierarchy in your company can you see the greatest impact from positive reinforcement in your employee feedback process? That's my next blog.