Having a vantage point over your competitor is always a good thing. In war armies seek the high ground to provide an advantage over their enemy. As we move toward another Fourth of July I've been spending some of my free time reviewing books on the greatest battle that occurred on American soil.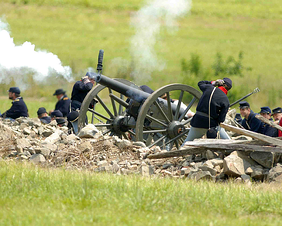 In the three days leading up to July 4th in 1863 the Federal army occupied the high ground around Gettysburg, turning it into an advantage that defeated General Lee's confederate armies. The victory eventually led to the reunion of our nation. At Gettysburg the high ground determined the victor.
In business it's important to establish the high ground. Peter Drucker first and later Michael Gerber emphasized the importance of working on your business rather than in it. How do you use the high ground in your business? Wikipedia describes the advantage of the high ground as: Fighting from an elevated position is easier for a number of reasons. Soldiers will tire more quickly when fighting uphill, will move more slowly, and if fighting in formation will have little ability to see beyond the soldiers in front of them. Likewise, soldiers fighting on the hill won't get tired as quickly, will move faster, and will be able to see farther when information, aiding them in making smart tactical maneuvers. Furthermore, soldiers who are elevated above their enemies can get greater range out of low-speed projectiles like rocks and javelins. Likewise, rocks and javelins will have less range when thrown uphill.
In my newsletter next week What Don't You Understand? I discuss the importance of measurements. The high ground in your business should be a vantage point where you can quickly and easily discern how the critical areas of your business are doing. What are those critical areas of your business and how do you track them? Creating a dashboard that provides the rich data that monitors your business is a Strategic Discipline you need to put yourself in position to work ON your business.
Look at the Example Dashboard provided here,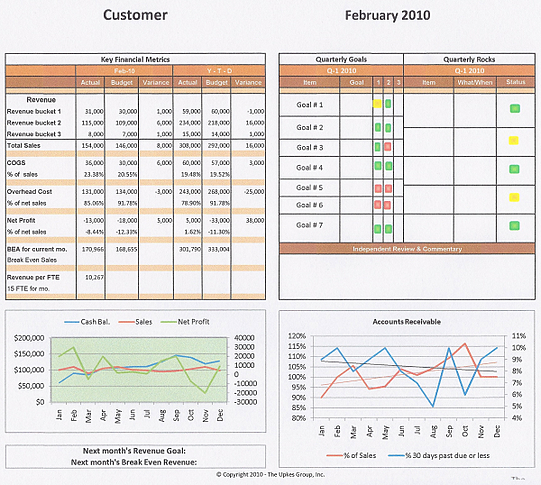 or send me an email [dwick@positioningsystems.com] and I'll send you an Excel file of this tool. The example here provides critical information for this client on his business. Financial information on revenue and revenue categories, COG, overhead, net profit and breakeven are provided for the month and year to date in one section. A graph provides the critical comparison of sales, to net profit and cash balance. Another chart provides details on AR with sales percentages and accounts over 30 days. Finally in the right quarter are the quarterly priorities with Gazelles red, yellow, green indicators to designate progress along with the responsibility for each rock.
Would a tool like this help you become the air traffic controller in your business? Would it provide you the vantage point for your business to enable you to direct your managers and people to produce the results you want?
Creating a Dashboard and developing Key Performance Indicators is important. In Strategic Learning it's pointed out that the general acknowledged to be the most successful military leader in modern history, Napoleon, was supposedly asked which was more important: material or spiritual resources? His answer: spiritual resources—by a factor of three to one.
Napoleon isn't the only authority who supports this. What are spiritual resources in your business and how do you get this three to one advantage working for you will be the discussion for our next blog.