Since hearing Darren Hardy speak about the Compound Effect and the discipline required for success I've been working on establishing the rituals he recommended. Although I've considered myself to be a pretty disciplined person, the disciplines Hardy describes require a tenacity and determination that few are willing to follow.
Hardy's recommendations are based first on the principal that we are limited on what we can control each day. The morning and evening when we're not at work are two times we can control ourselves. That's where he suggests starting. Hardy's rituals start even before he gets out of bed. Hardy wakes up and immediately spends 8 minutes while still lying in bed concentrating on what he is grateful for, then he programs himself for abundance by thinking about what he desires and what he wants to accomplish. Once out of bed he has coffee and stretches for ten minutes. Then he spends 30 minutes reading something positive. After that he has 60 minutes for showering and eating before he reviews his calibrations for ten minutes. These include his goals for five years, one year, quarterly and monthly along with the critical questions I asked you in Success, It's Not What You Do.
What are your half dozen vital functions?
What are your three strategic priorities?
Hardy also reviews his Most Valuable Priority for that day. Here's the part that may be the most difficult for you, what he called eating the bull frog. The first 90 minutes of each day he spends working on his MVP. It's a practice we recommend to our Gazelles clients.
Hardy's evenings may not be as precise however he spends ten minutes planning for the following day, identifying his MVP, working out [60 Minutes], reading [30 minutes] and then journaling for five minutes.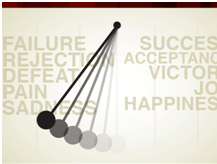 This practice at the end of each day means he gets up and is ready to start running the next day.
Does that sound too rigorous or planned out for you? Take a look at Hardy's track record and you'll see how discipline leads to success. At least if you call being a millionaire at 27 successful.
Marshall Goldsmith, author of What Got You There Won't Get You Here, Mojo and an originator of the 360 degree review had some very interesting observations about why coaching works as well as some questions to review each day to help you succeed. We'll look at those next blog.