As publisher of Success Magazine for 15 years, having interviewed countless successful people pursuing his passion to provide his readers with an alternative to the negative news media stories that predominate today's communication channels, Darren Hardy is an authority on success.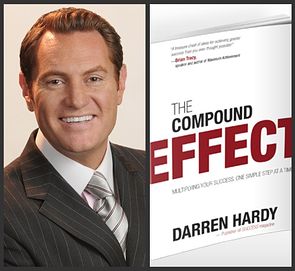 Darren admitted to being a self achievement addict. He's discovered there is a big difference between over achievers and super achievers. The difference however he's discovered is not what they do.
The master skill he's found that super achievers have developed is the ability to say "NO!" Yes is easy. What you don't do is more important than what you do. He offered several quotes from famous super achievers to illustrate his point.
Warren Buffet, "For every 100 opportunities brought to me I say no to 99." And "Much success can be attributed to inactivity. Most investors cannot resist the temptation to constantly buy and sell."
Kenneth Cole, "Success has less to do with what we can get ourselves to do and more to do with keeping ourselves from doing what we shouldn't."
Peter Drucker, "There is nothing so useless as doing efficiently that which should not be done at all."
Yes Darren notes means choosing to do something over something else. If we know our priorities making choices to say yes means we have less time to spend on those priorities we've decided are important.
It's not about doing more, it's doing less. You are better to be World Class at a few things than mediocre at many things.
Two quick examples he pointed to. A client of Darren's asked him to approach Richard Branson to speak to their business group for an hour indicating they were willing to pay $100,000. When Branson's assistant said no, they increased their offer to $250,000. Told no again they increased their offer to $500,000 and included a private jet to pick him up and return him. The answer was still no. Finally they asked how much it would take to get him to speak. The answer? No amount of money would matter. Branson is currently working on three strategic priorities and he can't deviate from working on these.
Dr Oz recognizes the importance of identifying the vital functions of the human anatomy, the same is true for your focus. You only have to be world class at a half dozen things. The key is the ability to identify what those half dozen things are. That's all you need to focus on.
To further prove his point Hardy offered two further quotes from coaching greats Vince Lombardi and John Wooden.
Vince Lombardi immediately after his team had won the first Super Bowl started the Packer's next training camp with this famous quote, "Gentleman this is a football." He knew the importance of stressing the fundamentals and returned to them every year.
More amazing is this from John Wooden, "Every season we started with the basics… how to tie your shoes." Wooden realized that if his team didn't wear their shoes properly it would mean lost time on the court and injuries.
Hardy then demonstrated how his own success was predicated on finding those few vital functions and performing them to the exclusion of others. His presentation reminded me of what we preach to our Gazelles clients in terms of discovering the One Thing that can impact your business and concentrating on that for the year and quarter. The value of his is evident in the compounding effect that occurs and which Einstein felt was the most powerful force in the universe. It is perhaps why Hardy named his book the Compound Effect.
Finally at Gazelles we are great believers and teachers of Jim Collins Good to Great. His quote is an affirmation of Hardy's key to say no, "When you have more than three priorities, you don't have any priorities."
Want to begin saying no more? Ask yourself these critical questions:
What are your half dozen vital functions?
What are your three strategic priorities?
Write them down now and keep them in front of you to help you say no!
Hardy's presentation reinforced the reading I did on the flight from Be Excellent on Anything. What distractions keep you from focusing on your priorities? Are you good at multitasking? That's our next blog.