Dan and Chip Heath, the authors of Switch, How to Change When Change is Hard, and Made to Stick recently sent out a newsletter FIVE TIPS FOR (FINALLY) GETTING YOUR NEW YEAR'S RESOLUTION RIGHT that suggest ideas gleaned from their research that I'd like to suggest you peruse as you consider making your New Year's resolutions.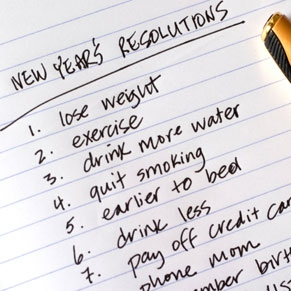 I've written a couple of blogs on Switch, How to Change When Change is Hard, and recommend this book particularly. Not only because it's got a lot of great ideas that you can apply to your business, but also to anyone that is not much of a reader, since it's filled with short snippets that many times don't take more than a page or two to digest and glean helpful ideas from. It's what some people call the perfect bathroom book if you understand what that all means.
In conducting a monthly meeting with one of my clients today the importance of Clarity Dissolving Resistance impressed upon me as we discussed the book in our learning, solving, planning portion of our monthly meeting. It's common for business owners and managers to quickly place blame on their people when changes are made in the business. People: Lazy or Exhausted explored this question which also came directly from the research Dan and Chip Heath did in Switch. When change is required in your organization are you to quick to place the responsibility on your people, or are you open minded enough to recognize that communication, clarity, and accountability begin with you and understanding human behavior and psychology?
Take a look at these five tips if you're interested in making some personal changes this year, and take a longer look at Switch if you'd like to make progress on your business in 2011.