"Atta boy!" "Nice job!" "Great Sale" "Appreciate your staying late to get that done!"
These are all forms of positive reinforcement. Or are they are?
The key to positive reinforcement and whether it truly was or not is, did it work?
Positive reinforcement always works. If it didn't it couldn't be labeled as positive reinforcement.
Here are two definitions, one from B.F. Skinner in Wikipedia the other Aubrey Daniels' Bringing Out the Best In People
Positive reinforcement is an increase in the future frequency of a behavior due to the addition of a consequence immediately following a response.
Positive reinforcement occurs every time a behavior produces a favorable change in the environment for the performer.
Did the "Atta boy" "Nice Job" or any other statement you, your managers, or co workers made make any difference in behavior? If it did it was most definitely positive reinforcement. If it didn't then you tried positive reinforcement and it didn't work.
Why didn't it work?
Postive reinforcement can be tangible or social. Tangible can be a reward like money, something that has value to someone else. Social reinforcement is symbolic and has trophy value. It is valuable only to the person receiving it. Social reinforcement might be someone geting a day off. It may be positive reinforcement to them, however to someone else it would not be of significant value. If you provide someone with a tangible reinforcement it's a good idea to pair it with some social reinforcement.
The issue here is that reinforcement is highly individual. You like sports, Jane doesn't. $100 is a lot of money to you, it's meaningless to Bill Gates.
In order to effectively reinforce you first have to understand what people want.
If you want to learn more about positive reinforcement go to these blogs, PIC – Positive Immediate Consequence – Aubrey Daniels – Dallas Growth Summit, the Difference Between Positive and Negative Reinforcement, Why Companies Use Negative Reinforcement, and why Employee of the Month is a poor behavior management practice. Or simply pick up the book, Bringing Out the Best In People.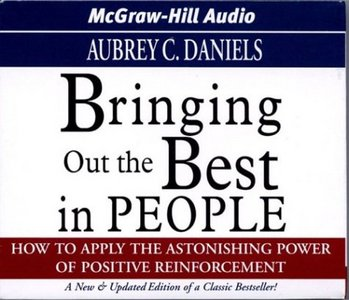 How do you discover what people want? The direct approach is to ask. Common sense would tell you that. However Aubrey Daniels wants you to know that there's too much common sense being used in business.
We'll explore why common senses is a poor management tool and how to discover what people want next blog.