What Differentiates a Multiplier from a Diminisher? A discussion with a client this weekend punctuated his ability to use this characteristic to bring out the best in people. Liz Wiseman, author of Multipliers, asked the Growth Summit Audience last week which of the following responses most differentiated Multipliers from Diminishers:
Seeing and assessing genius in others
Intellectual curiosity
Creating a safe environment to take risks
Listening
51% of the audience chose listening, 30% safe environment, 13% genius and just 6% intellectual curiosity. Surprisingly this last selection, intellectual curiosity is the biggest differentiator. David Sokol in his Q & A [Warren Buffet's Mr. Fix It #1 Lesson] noted how Buffet uses intellectual curiosity in interviews and in continually researching and discovering his decisions on stocks. In my discussion with my client about his strengths this same strength emerged as he revealed a situation he encountered with one of his employees last week.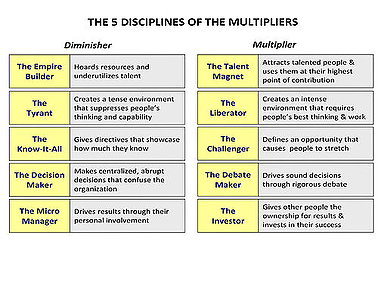 Multipliers are incredibly adept at asking questions, and not just probing questions, asking the big questions. One leader Liz Wiseman spoke of demands their managers never provide answers. They are required to always ask their subordinates and direct reports questions any time they come to them with challenges.
Liz struggled with her children's discipline each evening while being a full time working mother. She related her discovery about asking questions which one of her co-workers recommended she try. Instead of the usual chaos of getting her kids to bed at night she discovered by asking a steady progression of questions, "What time is it?" [Her children responded, "It's bed time!"], "what do we do at bed time?' ["We brush our teeth and get ready for bed!"] "And then what do we do?" ["We read a story!"] She was able to get her children to bed in record time without all the conflict and disruption it normally caused.
This Extreme Question Challenge is something she took back to work with her and discovered worked equally well there.
Wiseman suggested that contrary to what you may believe collective intelligence works best with your team when they've had time to think about their position [versus a spontaneous discussion] and when the group has a preformed opinion. An exceptional idea to help with the discussion is to ask those who have an opinion to defend the opposite position. It's a powerful method to help each side see the relevance of the other position and helps bring the team together once the decision is made. Another point she made is that you can't debate a topic. It must be a question.
How well do you use questions with your people? Are you someone who is intellectually curious? Can you use questions to help multiply your effectiveness with others?