Two weeks ago I asked my client to determine what his One Thing, or number one priority for the 4th quarter is for our next meeting. As the owner of a larger real-estate firm he determined that recruiting is his number one priority.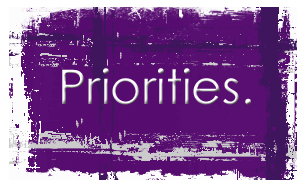 We concentrated on his number one priority, recruitment of new agents. He'd like to acquire 6 new agents before the end of the year. I asked him how he thought he would do that and why. He noted his franchise provides him with a detailed system to follow to recruit agents. He'd already identified 60 of the top agents in the market. He wasn't confident he could reach 6 agents exactly by the end of December. However he believes he can by the end of January 2011. The nature of real-estate compensation means agents go to a lower commission structure until they reach certain targets. Because his company's compensation package rewards the best agents with a higher and consistent commission structure immediately in return for paying office space and expenses, he feels a lot of successful agents would be more susceptible to move in January of 2011.
We looked at the numbers and the activity that he estimated he could do. His goal is 2 appointments a week. Since Thanksgiving, Christmas and New Years are in the 4th quarter we reduced the weeks to 10 weeks. That means he will need to have 20 appointments. I asked him what his sales cycle is. He indicated generally it takes three meetings with a prospective agent to convert them. That seemed to indicate his goal for 6 agents was high. In order to attain his goal he would need to have 6 first appointments, 6 2nd appointments and 6 third appointments and then close everyone by the end of December. I asked him what his closing ratio was. He noted that it was closer to 50-60%. That would mean at best, even if he was able to attain all six progressive appointments, the number of new agents he is likely to convert is 3-4, even if we allow him to move into January of 2011 to attain his goals.
We also looked at his contacts and the number of calls he needs to make in order to reach the two appointments a week he wants reach. He anticipated making about ten calls a week to schedule appointments. Will he be able to make an appointment with 20% of the calls he makes? From my experience with www.highprobsell.com it's more likely that he will only be able to speak to 20% of the people he contacts. From these contacts the numbers who actually schedule an appointment will be a much smaller percentage. It suggested to me that he would need to greatly increase the number of contacts, probably contacting all 60 or more of his prospective list every week in order to reach his goal of two appointments a week.
Based on our conversation, this is what I recommend that his dashboard look like for the agent recruitment effort he had targeted as his top priority for the fourth quarter. [The full version of this spreadsheet wouldn't show up well in this blog. You can see it by clicking the link below]
The goals are averaged over the three months which makes those for the first month more difficult to achieve. You can anticipate there'll be some ramp up time. He may wish to adjust them to move some of the metrics to be higher in subsequent month.
This is how one moves a priority/goal from the results to the activity stage. Full concentration can then be on the activities that we feel will help us attain the goal. If after several weeks the metrics are not being attained, or results are accumulating faster, the activity can be ratcheted up or down to scale the tasks to meet the goal. If no matter how much activity is occurring and goals are not being reached, it's a good bet there's either something wrong with the process/system you are working and adjustments need to be made, or you set your goals too high. Remember we've discussed making your first set of quarterly priorities attainable, and of course Aubrey Daniels our relationship experts reminds us that achievable goals are much better for developing momentum than are the erstwhile stretch goals that many like to establish.
The end of this week I'm leaving for Orlando and the Fortune Gazelles Fall Growth Summit. I plan to blog each day including our coaches training which begins on Sunday. There'll be a lot of great speakers starting on Tuesday and I hope to be able to give you a quick insight into their presentations each day. Look for my blog again on Sunday.