Good is the enemy of great. That's the first chapter of Good to Great. So what's the problem with being good? Nothing. Except it limits us. Except that it means we are vulnerable to others that decide to be great. Except that it means we are okay with mediocre. Do you want to be okay with being mediocre, or simply just good? I don't.
Nothing tears down a person more than complacency. I've felt it and I expect so have you.
I suspect a number of you have read Good to Great. I don't often review it, however like most things you enjoy and get a great deal out of, a second helping, or third or fourth, or… usually offers more.
Let me highlight some of the ideas just from the first chapter of Good to Great. Transformation from good to great occurs in three stages. It's interesting to recognize that transformation is discussed in terms of buildup to breakthrough. It's not one continuous event. You don't do this and expect to see immediate results, its slow steady progression on the flywheel. Yet the principal of strategic discipline harnesses powerful forces that propel you forward.
The three broad stages are disciplined people, disciplined thought, and disciplined action. Underlying each stage are two additional elements.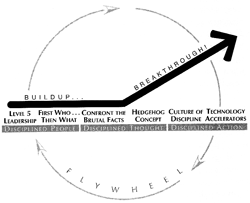 Disciplined people requires level 5 leadership and the right people, as exemplified by "First Who…Then What."
Stage two, disciplined thought requires "Confronting the Brutal Facts [yet never lose hope]" and The Hedgehog Concept [What are you deeply passionate about, what you can be best at the world at, and what drives your economic engine.]
Stage three, discipline action includes A Culture of Discipline and Technology Accelerators.
I would argue that few companies have a culture of discipline, yet it is a requirement for building sustainable greatness. It's why Positioning Systems has placed its emphasis on helping our clients create Strategic Discipline.
Good to Great was written during flusher economic times [2001] when there was great discussion on the new economy. How things have changed. Still Collins indicates that the principles the book reveals cross time frames of recession and economic challenge. The best leaders and companies adhere to basic principles with rigor and discipline. Launching revolutions, dramatic change programs, and restructurings almost certainly doom a company. Good to great never happens in one fell swoop. There is no defining action, no grand program, no one killer innovation or solitary lucky break. The idea of a miracle moment is a myth.
Stop looking for your miracle moment. Success is the progressive realization of a worthy goal. Note the emphasis.
Success comes from making right choices. I've never asked for contributions or help from my readers before however next blog I'm going to ask you to consider making a contribution to a cause I support which is all about helping young students and our children make right choices. My hope is that discussing the importance of choices will help you make the right choices for your business as well.