Employee Engagement is a critical factor in getting maximum performance. I've pointed to this before and the work Gallup has down developing their Q12 [12 questions from the book First Break All the Rules that gauge engagement in the workforce] and how Best Buy uses these questions for their Core Score. You can read more on how just a 2% increase in employee engagement at Best Buy resulted in an additional $70 million in profitability here.
One of the questions in Gallup's Q12 is: Do I have a best friend at work? At first glance you might ask, [like I did] what does having a best friend at work have to do with employee engagement and increased productivity? Gallup's research reveals that only 30% of employees have a best friend at work. So what right?
Take a look at these numbers if you're still not convinced having a best friend at work makes a difference.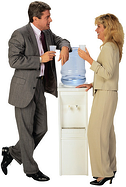 Employees with a best friend at work are:
Seven times more likely to be engaged in their jobs
Are better at engaging customers
Produce higher quality work
Have a higher wellbeing
Are less likely to be injured on the job
Those employees without a best friend at work have just a 1 in 12 chance of being engaged.
MIT researchers monitored workers who wore high-tech identity badges [like a GPS for an individual worker] to monitor their movements and conversations, and discovered even idle chit-chat might actually be valuable to productivity. Small level increases in social cohesiveness lead to large gains in production.
Here is another rather amazing results on the influence closest relationships have on our physical health. To study how stress levels affect recovery from a wound, 42 married couples were brought to a hospital and given small wounds on their arms. Devices were placed on their wounds to discover how fast they would heal. Couples who were having hostility in their relationships took twice as long to heal.
How many of our work environments have challenging relationships? The results of this study would indicate that resolving conflicts or eliminating people who are the cause of conflict to reduce hostility is a lot more important than we might think it is.
Some additional statistics from Gallup. To have a thriving day we need six hours of social time. When we get six hours it increases our wellbeing and minimizes stress and worry. [So you don't think six hours is unattainable, realize that time includes work, at home, on the telephone, talking to friends, email, and all kinds of other communication.] With no social time in a given day you have a 50-50 chance of having a good or bad day. Each hour of social time actually decreases the odds you'll have a bad day. Three hours of social time reduces the chances of having a bad day to 10%.
Does this information about socializing make you rethink how you might handle your employees? Do you have a key metric that measures your employee engagement as part of your Strategic Discipline habits?
If Employee Engagement can help increase productivity as much as 40%, doesn't it make sense to measure it? Next blog the complete 12Q questions from First Break All The Rules.