Why do most businesses fail? It's natural to assume most businesses fail due to poor execution. The answer may surprise you.
Noted business consultant Peter Drucker observed, "Most business failures are not the result of things being done poorly. Businesses fail most often because the assumptions on which the organization has been built and is being run no longer fit reality." Well known management consulting firm McKinsey offered a more compelling and concise observation [McKinsey Quarterly, August 2006] "Those who say that business success is all about execution are wrong. Bad choices trump good execution every time." *from Strategic Learning.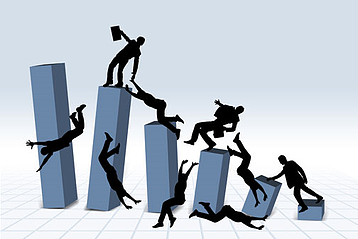 Most of business owners are caught up in our organizations and fail to take time to noodle, explore and ruminate about our business. Even if you take time to think, as Bill Gates does twice a year, you can still fail to recognize the patterns that are part of the pace of change. Businesses that succeed develop Strategic Discipline. They schedule their time to get outside their business, and they schedule time to work with their teams to steer their ship in the direction they direct and forecast it to go.
Assumptions on markets, customers, competitors, and your company's own strengths and weaknesses need to be tested if not annually, every quarter. The market can change, overnight one customer or a new competitor can disrupt the course you were on. Now you must make adjustments! What structure do you have in place to deal with a major change in your assumptions? How did you handle the last economic crisis, and how are you handling the current economy? That alone should offer insight into whether you need a minor adjustment to your strategic discipline or major bypass surgery.
Even if you have the right disciplines in place to sense and respond to markets, customers, and your competitors, you need to make good decisions. Then you need to execute on those decisions.
The day for following, "if it isn't broke, don't fix it" is passed. Willie Pietersen in Strategic Learning observed that no industry is immune from continuous change. If you name any product or service it's a guarantee that whatever lifespan it had it's getting shorter. VUCA – volatile, uncertain, complex, and ambiguous certainly applies to today's business landscape.
I'm going to guess that most of this you already know. Or if you don't know you've just been avoiding thinking about. The key to responding is to recognize that you don't, no you can't just do this once. You must develop a habit, a strategic discipline that includes choosing the right priorities, metrics, and meeting rhythms to make the right decisions. Are you doing that now? Are you prepared to change in order to protect your business and make it grow?