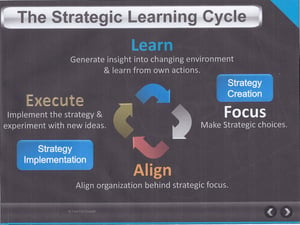 This week I spent about 16-20 intense hours working with a client's executive team developing their strategic focus through Gazelles Two Day Rockefeller Habits Workshop. In Willie Pietersen's book Strategic Learning he indicates that focus and compounding are the two most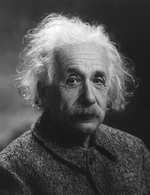 powerful forces in the universe. Developing clarity of focus is your springboard. Albert Einstein called compound interest the most powerful force in the universe. [Compounding is reinvesting the income on an investment and watching your principle grow. It grows exponentially over time. See Chart below.]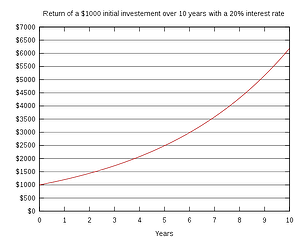 My client had some challenges determining their One Thing, the top priority they need to focus on that can have the greatest impact on the business in the next 90 days. With an executive team that is spread out throughout the United States working remotely, plus their entrepreneurial nature, the communication between each team leader is limited. Several managers indicated they had not seen each other for more than 2 years. When discussing what should be worked on and which direction to move in there was a lot of ambiguity and misunderstanding. Each manager had their own agenda. It wasn't always clear how their challenge affected the business or would impact its growth. Years of limited communication meant we had to make up a lot of lost time in a short period of time.
This contention over priorities highlights the powerful impact of compounding. It's one thing to know what direction you're are going in, it's quite another to have invested days, months and possibly even years combining the entire energy of your organization to exert intention and attention toward One Thing. Unity of purpose and teamwork, with each individual aware and dedicated toward achieving one priority, has a dramatic effect on achievement.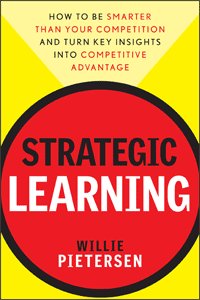 Pietersen compares the reinvestment in learning which comes from the compounding of Strategic Discipline [priorities, metrics and meetings] to a surfer catching a wave. It picks up extra force to generate the difference between doing and excelling. It makes it extremely hard for competitors to catch up with you.
I've experienced this first hand in the companies I work with that fully engage and adopt the Rockefeller Habits and Strategic Discipline Habits. Again from Pietersen's Strategic Learning he states: "The story of success is always the same. The vital difference between winners and losers can be boiled down to a simple equation: Subtract all extraneous distractions then multiply the result through learning. Subtract, then multiply. Focus X Compounding = Excellence."
This equation helps explain why business fail. That's the discussion of my next blog.