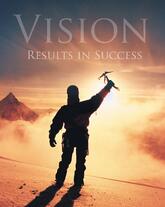 In Clarity Dissolves Resistance we discussed how many business owners and executives fail to understand the importance of determining a vision for their business. While small business owners [less than $1M in revenue] may be more guilty of this than mid-size business owners, it's not hard to find this lack of vision in larger companies. The changing economy, advancing technology, competitive pressures, internal challenges all contribute to this so-called fog of war. It can dull the senses and reduce the leader's appreciation for developing a vision. Setting priorities and communicating them to employees is critical to growth.
Even leaders that develop a clear vision for their business fail to realize how this transparency must be communicated to team members. Progress toward priorities, measurements that reveal the score, and how well the company is doing, must be clearly broadcast.
Leaders and managers can shrink from bad news, and yet this is only perpetuates the difficulty of recovery. If anything bad news must be received faster than good news. It's no mystery why Jim Collins cited, "Confront the brutal facts" as one of the hallmarks of business that reverse negative trends and make the leap from good to great. If you question how your team responds to bad news review On The Way Up – On the Way Down – Leadership Dynamics That Matter Most.
Leadership must recognize the importance of clarity. Regardless of whether its policies, systems, values, punctuality, or metrics, clarity on expectations need to be continually and consistently delivered to your people. The old saying what's inspected gets respected is certainly true. Yet too frequently leaders fail to invest the necessary time to create their vision, review it quarterly, and then communicate it to their people.
In my E-Myth training two things stood out as fundamental to business success. You can't manage people. You manage a system. In order to manage the people who operate the system you must first get agreement on the benchmarks and steps to the system. The message is clear. Your business is a complicated, integrated system. In order to get everyone on the same page, you need to get them to agree to the system. In your business the ultimate organizing system is your vision. You as the leader are responsible for creating, adjusting and communicating the business direction.
The second fundamental from my E-Myth training is this quote from Michael Gerber, "Businesses that plan always do better than businesses that don't. But business that change their plans are always more successful than businesses that plan but don't change them."
Clarity and vision come from creating a strategic plan. There's no simpler and better solution than Gazelles One Page Strategic Plan. The One Page Strategic Plan not only provides a vision for your business, it also provides short term 90 Day Prioritiesto help you and your staff focus on intermediary goals. We'll discuss elements and disciplines for the One Page Plan to help you keep your team focused on your vision in our next blog.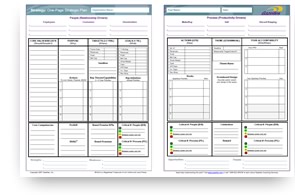 How are you and your company doing on communicating and following the vision?