It's called newsjacking, and David Meerman Scott believes by taking a few risks your company can gain followers and customers to elevate your position in your market and industry.
News stories happen quickly, and the trick is to get in on the story prior to its peaking in popularity. Newsjacking doesn't have to be something that is in your industry. With a bit of creativity you can newsjack just about any event.
Here's an example of how Norton Antivirus (Symantec) software newsjacked Justin Bieber's release of his new album and song.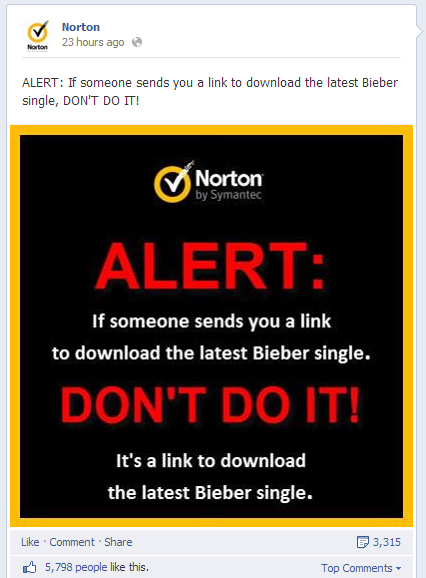 In advance of this event, Norton sent out an email ALERT. The message is pictured here on the right.
Big Deal right? Imagine you'd done something as creative as Norton. The Result? An 18% increase in on line sales!
David Meerman Scott calls this form of marketing Real Time Agile Sales and Marketing.
Few companies engage with their customers in real time. They focus on the past or future, and fail to invest time in the NOW.
Scott asked why "Selfies" have become such a phenomena? It's because they are in real time!
In today's market, speed and agility are decisive competitive advantages that your business needs to take action on.
Think you're doing fine in this area? Did you know the CIA is using Twitter?
"We can neither confirm nor deny that this is our first tweet." Not bad for a government firm considered stodgy and out of touch?
David Meerman Scott is the author of at least 7 books including: The New Rules of Marketing & PR: How to Use Social Media, Online Video, Mobile Applications, Blogs, News Releases, Real-Time Marketing and PR: How to Instantly Engage Your Market, Connect with Customers, and Create Products that Grow Your Business Now, Marketing the Moon: The Selling of the Apollo Lunar Program, Marketing Lessons from the Grateful Dead: What Every Business Can Learn from the Most Iconic Band in History, World Wide Rave: Creating Triggers that Get Millions of People to Spread Your Ideas and Share Your Stories, Newsjacking: How to Inject your Ideas into a Breaking News Story and Generate Tons of Media Coverage.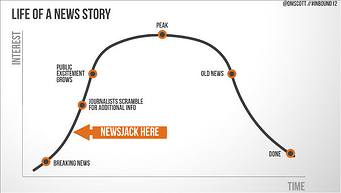 Newsjacking is his term for injecting your ideas into news story to gain recognition and publicity, and even additional sales (as noted by the Norton newsjacking of Justin Bieber). Every news story has this bell shaped curve you see portrayed on the left. Injecting your spin or ideas into the story at the proper time and you can elevate your brand and gain impactful publicity without investing much if any advertising.
Here's another example from Ben & Jerry's Ice Cream.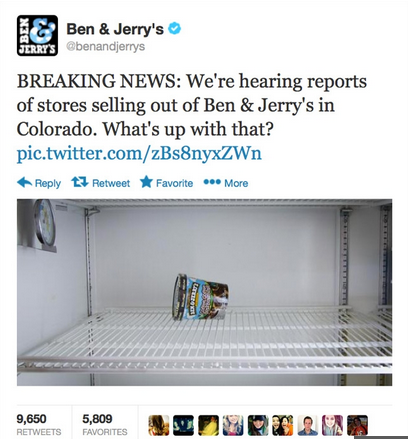 In 2014 when Colorado legalized marijuana they sent out the following twitter post.

Scott asked the audience to use our creativity to come up with Twitter messages on New England Patriots Super Bowl Winning QB Tom Brady's suspension. Some of the ideas included a Cellular Phone companies, "We deflate your rates, not your balls!" One of our Gazelles coaches offered, "Real Leaders have inflated balls!" Someone suggested Krispy Kreme use "Are yours fully filled? (May actually have been a tweet, although I couldn't locate it in a Google Search.)
There's a revolution going on in social media and it's in your company's best interest to take advantage of it. Consider it like an exercise program for your business. You need to train your mind and your team to have a real time mindset.
Did you realize there are more cell phones today than there are toilets, and toothbrushes? In Uganda there are more cell phones than light bulbs.
How revolutionary is this social media and cell phone phenomena? In Panama a village like most primitive areas relies on a river for its life blood. Recently the entire community moved every hut and building 1 mile away to the top of a hill.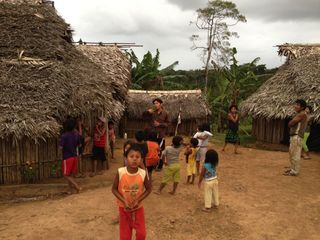 Why? For better cell phone coverage. No running water, no electricity, yet they have 1 iPad and need Cell Phone coverage for their economy.
It's part of the Communication Revolution!
Cell phones provide us with the ability to instantly communicate with anyone on the planet. It's your choice. Stick to the status quo or join the revolution. Just recognize the former is lacks a future.
Stop making excuses David Meerman Scott implored, Join the Revolution!
How much waste is your company producing each year? Paul Akers the author of 2 Second Lean gave a rock solid presentation that opened everyone's eyes and ears in the audience on how impactful and easy lean can be to implement. We'll have details on this next Tuesday.
The video below is a five minute synopsis of Verne Harnish's interview with David Meerman Scott for the Leadership Growth Summit: