The Trojan Horse Effect and increased company value. Recurring Revenue can have a dramatic impact on your business if you can uncover the means to achieve it. John Warrillow provided his insights from his book The Automatic Customer at the Orlando Leadership Summit. We covered two of the nine business models for recurring revenue in John Warrillow, The Automatic Customer – Orlando Growth Summit. All nine business models can be found in an e-book here.
Let's continue with two more models Warrillow shared.
Consumable Model
What is it that your customer consistently runs out of? HP Instant Ink uses a sensor in their printers to make sure you never run out of ink.
As a male you may have heard of Dollar Shave Club. Have you seen their next effort to own the bathroom? It's called One Wipe Charlie. Warrilow played the following video to uproarious laughter.
Warrillow isn't convinced Dollar Shave Club's efforts to own the bathroom will work since they are competing with Amazon, but who can argue with the humor in the video. In addition, I've found that a position specific business can often out flank a competitor who has a lot of other products or services to defend.
If you feel this category may have value for your business, Warrillow suggested the following exercise: Make a list of all the things your customers run out of regularly.
Consider everything including products or services you're not providing now. There may be an opportunity that someone else isn't offering that you have access to offer.
The Membership Model
What's your expertise?
Kathy Blakely ran a dance studio. She consistently faced inconsistent revenue due to economic fluctuations that hurt her customer's discretionary income, seasonality, and parents who requested only her as their child's instructor.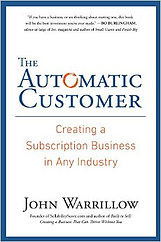 As an entrepreneur she was the quintessential, "stuck in the business" owner. Still she earned an excellent reputation as an expert in her field. That reputation earned her an opportunity to work on Celebrity Cruise Lines teaching ball room dancing to baby boomers for four months. When asked she readily accepted the invitation.
What to do with her dance studio?
She asked her daughter Susan if she could take over the dance studio in her absence. Susan accepted with the requirement that Kathy put all her procedures and experience for running classes into Word documents so she could follow her best practices.
Susan quickly realized once Kathy delivered these Word Documents to her that these policies and procedures were GOLD!
She created a membership website (dancestudioowner.com) where aspiring and current dance studio owners could receive access to these proprietary resources. Just two years later the largest dance apparel company in the world purchases Kathy's website business. Why? They recognized the value of the subscriber base for their business.
Question: What do you know more about than 99.9% of the rest of the world?
That may seem like a difficult question to gain leverage on. Just remember Kathy Blakely's story. Often we don't recognize the value we have in our present business.
Scale Up Subscription Offering
You may wish to reference the book if you want to understand this well. Warrillow indicated that you can't use the normal metrics to predict the validity of your model for your business. Warrillow tried the subscription model in his business initially and failed. He tried it for four months and faced a mountain of red ink compared to his previous model and his accountant immediately questioned his sanity. He abandoned his efforts. He discovered he was using the wrong metrics. He recommended not using the P&L of your business as a report card on your performance. You need to adjust your vision on this to see if it works.
He gave several examples of this using metrics and ratios. One of his examples shared how HubSpot changed their business model from focusing too much on micro businesses which was causing too much churn in their subscription model. They also focused their attention on their 90 day onboarding process, recognizing it as the critical time to prevent churn. The result was a better ratio in customer acquisition costs versus lifetime customer value. Warrillow recommends a 3 to 1 ratio for the subscription based model to work efficiently.
A question you might ask about your business Warrillow recommended is: What does the first 90 days of a customer relationship look like at your company?
Would it make sense to invest more time, energy and a better process to ensure you retain your customers longer?
Warrillow summed up his presentation with these suggestions:
Begin thinking in terms of recurring customer revenue
Business with recurring revenue streams are more fun to run
Business is more predictable
Increases your businesses value.
Remember Trojan Horse Effect – recurring customers purchase more.
How's your business at social media. An authority on it David Meerman Scott spoke on Real Time Agile Sales and Marketing and the decisive advantage of speed. We'll look at his presentation and how you use "news jacking" to propel your business into the spot light.