This blog is no stranger to the value of habits. We've written about habits many times in the past.
The first speaker at the Leadership Summit sponsored by Fortune yesterday was Nir Eyal, author of Hooked: How to Build Habit Forming Products.
Let's start with a definition of habits: impulses to do a behavior with little or no conscious thought. An example of this would be brushing our teeth.
Nir explained that Hooks are experiences designed to connect the user's problem to a solution frequently enough to form a habit.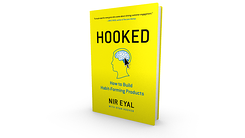 Hooks have four phases: Trigger, action, variable reward and investment.
Let's examine each of these, but first a relevant point of why when it comes to our product or service it's valuable to have your customers form a habit. If your product or service is habit forming you will increase your customer's lifetime value. If you've done any calculation on your customer's value to your business you know this can be impactful. Imagine being able to increase your Customer Lifetime Value by 25%, 50% or even doubling it. That's what company's like Facebook, Instagram and Pinterest have been able to accomplish. When your product or service is habit forming it supercharges growth! It also increases your defensibility. You're less vulnerable to competitive attacks.
The latter is important to recognize. It's not always the best product that wins, but rather the one that has established a habit. Independent research shows that in blind tests Bing and Google search are evenly split in terms of customer preferences. Yet Google owns the search engine category and consumer preference.
Nir explained that in order to form a habit you need two things: Frequency and change attitude. He offered that his presentation would only help with the latter. He also noted that many people feel that repeating something for 21 days or 90 days forms a habit. Science has not proven there is any magic formula for establishing a habit, except that in order for frequency to work it must occur within 7 days of the each action.
Creating a habit around your product isn't for everyone. For example in the real-estate world, people simply don't purchase homes with enough frequency to make them into a habit (unless you're buying one every 7 days or less). If your product or service can be purchased frequently though the benefits are huge.
You will need a significant level of insight into your customer psyche to develop this. If you can connect the customer (user) problem with your solution, with the appropriate frequency, then you have them hooked!
Let's look briefly at the four steps to create a habit:
Trigger: These can be internal or external. Most frequently an internal trigger is negative emotions. The product or service provides relief from that emotion. For example when you're bored you more likely to visit a site like Facebook, or perhaps do a Google Search. The person receives a reward for visiting these and suppresses their negative emotion. Instagram is an example of solving the problem of losing the moment. It has the added benefit of being a social network as well.
Action: Nir defined this as the simplest behavior done in anticipation of a reward. Clicking on a YouTube video is an example of this. There's a formula for achieving the desired behavior. M+A+T = Behavior, where M is motivation, A is ability and T is trigger. This blog doesn't allow time to get into all of this, but there are six factors for increasing motivation.
Seek Pleasure
Avoid Pain
Seek Hope
Avoid Fear
Seek Acceptance
Avoid Rejection
Nir believes ability is more important than motivation. There are six factors as well that increase or decrease ability:
Time
Money
Physical Effort
Brain Cycles
Social Deviation
Non Routine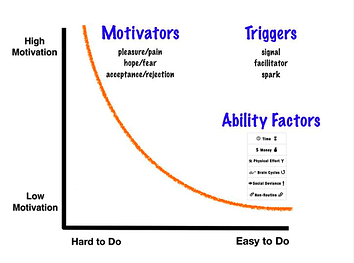 The chart on the left shows the level of motivation and ability determines if an action will occur.
Reward: It starts in the brain with the Nucleus accumbens. The trigger needs to stimulate the stress of anticipation. This means there's an itch that the customer needs to scratch. Variability is required. The unknown is fascinating. Variability of the reward actually causes us to engage and increase the behavior. There are three types of variable reward:
Tribe – this includes what Nir called empathetic joy, or social rewards.
Hunt – is the search for resources. Nir noted that Ross Dress for Less stores actually have mastered this, calling shopping at Ross a Treasure Hunt. Ross shoppers will shop more than one store because each store has different offers, and customers are looking for deals.
Self – this is the search for self-achievement. It includes gaining mastery, consistency, competency and control.
While it's important to satiate the users itch, a habit is only formed when the user leaves and still wants more. When the user invests time or energy into this the likelihood of returning increases.
Does your business require unprompted user engagement? If it does then building it around these habit forming ideas can significantly increase it's value. Building this will require some investment and considerable expense. You only need to look at the value of companies like Facebook, Instagram and Pinterest to realize the tremendous value making your product or service into a habit can provide.
David Meerman Scott, author of The New Rules of Sales and Service, Paul Akers, 2 Second Lean: How to Grow People and Build a Fun Lean Culture, and John Sviokla, co-author of The Self-Made Billionaire Effect: How Extreme Producers Create Massive Value, rounded out the first day of speakers. We'll cover their presentations in future blogs. Tomorrow John Warrillow, Christine Comaford, Nick Nanton and Verne Harnish highlight the speakers. I'll choose one to highlight in tomorrow's blog. Anyone of today's speakers are worth the investment in the Leadership Summit. Please consider attending our next Growth Summit in Dallas, October 20-21st.
Verne always interviews each presenter at the Leadership Growth Summit, here's his short five minute interview with "Hooked" Author Nir Eya: