Are you open to learn from your errors?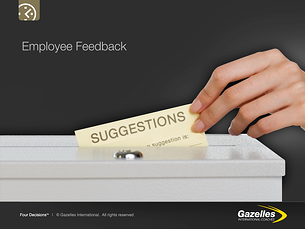 If you're open to learn from your mistakes, often they can launch success and opportunities that would never have occurred without accepting failure.
This past week one of my customers discovered a contest they'd planned around the Shark Tank theme, well to put the best possible spin on it, "it tanked!" I accept a great deal of responsibility for that since I'm their coach and failed to anticipate the lack of response. The president of the company is not only more omniscient than I; he also has a healthy dose of productive paranoia and anticipated this. When I suggested they have as one of their judges be a TV personality from the local ABC TV station, he demurred. He was afraid to have too much publicity and scare away employees from competing. He was afraid too that they might fail to produce good ideas and embarrass themselves and the company.
Turns out he was right, even if you eliminate the idea that negative expectations can produce negative outcomes, there is still plenty to learn from not having achieved near the outcome we'd all hoped for.
While the theme produced a number of contestants, several dropped out just two days before the Theme judging contest. The remaining contestants were unprepared to deliver against the rules and policies we outlined for them.
This was an opportunity for employees to win a $3000 first place prize, $1000 second place and $50 for each contest entry team. We asked the contestants to provide their best idea for saving the company money.
Upon reflection during our weekly meeting, the issue may not have been that no one had good ideas, or was afraid to present in front of a panel of judges, but rather that the culture of the company hasn't encouraged or demanded employees to do this in the past.
Lacking a culture where employees are frequently required, encouraged or supported in providing ideas, what's the probability employees come forward with ideas for a contest? Judging by the results here, they appear to be greatly reduced. We decided combining the company culture and theme team together didn't allow for enough dedication and commitment to the theme development. Promoting the theme and encouraging participation fell short of what probably was required to deliver the results we wanted.
Our discussion this Friday in the weekly meeting centered on how we can encourage more idea producing behavior from their teams. Scaling Up provides some wonderful examples that we're considering for our May monthly meeting. The best one, from Jimmy Calano of Career Track, noted below, is one the CEO would like to implement. Mistakes can produce good ideas, and I expect this to offer even better ideas for the company in the future than this speed bump caused.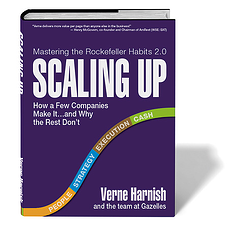 Here are some ideas from Scaling Up on how to collect weekly input from employees about obstacles and opportunities.
To keep this from turning into a collection of gripes, provide some prompts. Ask employees to submit suggestions that will:
Increase revenue.
Reduce costs.
Make something easier/better for the customers or employees.
Ways to tap into employee ideas include 3M's "15 percent rule," launched in 1948, which allows employees to spend a proportion of paid time on projects of their own choosing. Google, Apple, and other companies now have similar policies. At Sydney-based software firm Atlassian, employees get 24 hours to produce innovations on "ShipIt" days.
Here's one I liked best: Jimmy Calano, who built CareerTrack Inc. into the largest one-day-seminar company in the world, and sold it to cable conglomerate TCI, implemented what he called a 3I program. Each month, every manager (Calano had 40 at the time) had to submit three ideas for increasing revenue, reducing costs, or making something easier at the Colorado-based company. Calano would spend the Sunday morning before the Monday monthly management meeting going over the 120 ideas and writing detailed responses, especially for concepts that needed more work to implement. He would then choose the top 20 ideas for the month and announce them at the management meeting, handing each winner a crisp $20 bill for fun. The 3I program gave Calano real insight into the gaps in knowledge among his frontline and middle managers, affording him many "teachable moments" when responding to their submissions. And Calano could document millions of dollars' worth of improvements from these ideas. Equally important, having to submit three ideas every month forced all of his managers to seek input from frontline employees and customers.
It's great to collect all these ideas, the problem with most companies is you get more than you can respond to and implement. What occur are employee ideas submissions dwindle or are extinguished. Companies that fail to respond or give feedback to those submitting ideas lose the energy an motivation from their teams.
Again from Scaling Up here's how to Close the Loop.
Gathering employees' feedback and ideas will backfire on the company if management doesn't close the loop and act on their suggestions. At a minimum, let an employee know why an idea can't be implemented. The biggest obstacle is finding the time. The senior team doesn't need any more to-do's. Therefore, we strongly recommend holding a middle-management team accountable for responding to employees' feedback on all obstacles and opportunities. This is an excellent executive-development opportunity for a group of up-and-coming managers as they gather and react to the suggestions and work cross-functionally to implement them. And just as you probably track the number of days you take to pay your vendors (accounts payable days) or to get paid (accounts receivable days), we suggest that you track the number of days it takes to implement the ideas gathered from your employees. Have the middle-management team that is driving this process create a "Suggestion Aging Report" tracking how many ideas are 30, 60, and 90 days past due. Last, be transparent with employees. Set up an internal Web portal where all suggestions are listed (unedited) with updates on progress, or simply write them on a huge whiteboard in the break room and erase them only when they've been addressed. In addition, publish updates in internal newsletters.
WARNING: Any submissions that single out individuals in a negative way should, of course, be handled privately and never be posted.
Scaling Up gives examples of how Wal-Mart gathered customer feedback and turned that around every week to gain a two week advantage on their competitors.
Great ideas can come from a variety of places. Saturday I attended a 4 hour Welcome meeting to my new church.
The church has six Core Values. Each new "partner" is asked to complete a measurement to fulfill a commitment to each one. One of my customers served as a coach to new members and we discussed implementing this idea for his company. I'll share this idea and review Advanced Core Values next blog.