Saturday, my son Noah, performed a solo and in a quintet at Solo and Ensemble, at Jefferson High School in Cedar Rapids, Iowa. Watching him perform reminded me of the irony of freedom. It also reminded me of a quote I've used several times in my blog, that the will to win isn't as important as the will to prepare to win.
Every one of the students attending the solo and ensemble competition were excited, nervous, prepared, and anticipatory. A young lady who happened to be the daughter of a friend from my church performed ahead of Noah's solo and she requested her parents not be in the room when she performed since they made her more nervous.
The corridors of the schools overflowed with these enthusiastic performers, their supportive parents and family members, along with school officials and judges. Can you imagine these students not spending many hours in advance preparing for their performance?
In Noah's case I know he started last year, perhaps even as early as the last year's solo and ensemble finish. I'm sure every other student prepared many hours ahead of time. Many evenings, after we've concluded our meal, Noah picks up his bass to practice as I clean the table after supper. His accompanist scheduled several practices, and Noah worked with his music coach for weeks gaining his insights to evaluate and improve his performance.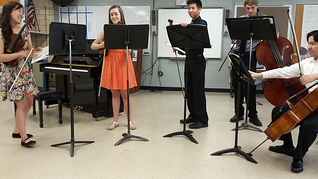 Noah and his quintet received the judges' highest score. With this come recognition, honor, reward and freedom.
Freedom isn't always perceived correctly. Freedom must be earned. There's a price to pay for it. Just as our revolutionary forefathers paid with their lives to earn our freedom, and our US Military has paid the ultimate price to continue to secure it, the right to achieve freedom in your business, a relationship such as marriage or with a good friend requires a price. The price is often discipline, commitment, and accountability.
The result of getting a marriage or a business right is freedom. Freedom knowing that you and your spouse or your business associates will follow through and achieve the commitments they agreed to in their marriage vows or their job description.
At Positioning Systems we call our freedom building tool, Strategic Discipline. It's a mix of priorities, metrics and meeting rhythms that requires the leadership team and subordinates to make decisions on objectives each year and quarter, set metrics to measure and achieve these, and then regularly check in on progress to make altering decisions in order to attain each priority.
Strategy is defined as a plan, method, or series of maneuvers or stratagems for obtaining a specific goal or result. It's long term versus tactics being short term.
Only once a team commits to these three execution methods they gain the freedom they desire in terms of more time, better execution, and consistent achievement of objectives. That's freeing.
Relationships in business, friends, or marriage require commitment and discipline. In a marriage the "romantic love feeling" doesn't last forever. Research suggests it last a year or less. In business the excitement of a new job can last even shorter. Indeed many employees lose interest after a poor onboarding promise that didn't meet the expectations they had when they were interviewed and offered the position.
Discipline in onboarding, the interview and hiring process (Example: following a system like Topgrading), a disciplined management system that requires one on one meetings, daily huddles and weekly meetings, plus holding people accountable to their quarterly priorities and metrics as well as their job accountability is an absolute necessity in order to achieve results. Achieving results in these and many other areas of the business provides a sense of confidence and freedom that liberates people to do their best.
The irony of freedom is that it comes with a price. That can be in the form of a myriad of challenges yet it always requires discipline and commitment. One may believe there is not freedom in business. Yet there is a liberating feeling when a business hums along consistently and predictability. Michael Gerber's E-Myth Revisited: Why Most Small Businesses Don't Work and What to Do About it, would suggest it's liberating for the owner when he creates documented systems that provide the systemic flow of all operations, allowing the owner to be free of his enterprise. I believe it's much deeper than that. Simply having a Core Purpose that your people believe in and act upon can be extremely liberating. Imagine seeing the majority of your people excited, enthusiastic and professionally exhibiting the exact behavior you want to influence and satisfy your customers. How freeing would that be?
Every sweet has it sour.
Achieving great results requires an emphasis on discipline and commitment to a cause whether it's a business, relationship or marriage. How well is your business paying the price to achieve great results and freedom? A good test to discover this is the Rockefeller Habits Checklist. Discover how well your business is executing by taking the checklist exercise today.
Gallup recently released a study indicating employee engagement in the United States remains at 30%. Who's responsible for this low score and what can be done to raise it in your organization? We'll look at the answers next blog.