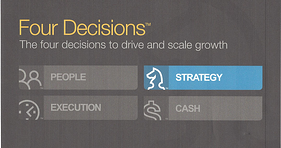 Strategy challenges are indicated by a slowing in top line revenue growth. If revenue is not growing as quickly as you like, then it's time to re-examine your strategy: What you're selling to whom? It's important to have a concise statement of that strategy so everyone's aligned and on the same page without wasting sales or operational energies on activities not useful to the business.
Jim Collins, author of Good to Great, calls this precisely articulated strategy a company's "hedgehog." Alan Rudy, founder of growth company incubator Into Great, calls it the "ping" of the business. Others call it a unique selling proposition (USP), differential advantage, or brand promise. Harvard Business Review Can You Say What Your Strategy Is by David J. Collis and Michael G. Rukstad call it a Strategy Statement. Whatever you choose to call it, you know you've nailed it if revenues are growing as rapidly as you want.
Turbulent economic times tend to expose weak strategies. What's your top line revenue number telling you?
Previous Strategy resources have been discussed in:
Four Decision Growth Tools – Strategy Yields Top Line Revenue Growth
Growth Tools – Strategy for Top Line Revenue Growth (Cont.)
Four Decisions Strategy –7 Strata, WHO, Brand Promise, Profit Per X
Strategy Decisions - Actions to Live By, Catalytic Mechanism, X Factor
We continue to explore the Four Decisions with Strategy and three final Growth Tools to help our Positioning Systems and Gazelles customer growth their revenue.
BHAG
In his book "Good to Great," Jim Collins identified a goal that great companies developed and pursued through time and was so challenging that they might not know how they would accomplish it, but were inspired to figure it out successfully. He called this goal their "Big Hairy Audacious Goal" or BHAG for short.
The BHAG arises out of the intersection of three key considerations:
A company's Core Purpose (or reason for being – their passion)
A company's area of focus that they can be the best in (their) world at providing; as we have learned, we call this their Brand Promise
The fundamental increment or building block that drives their profit – their "Profit per X" as we refer to it.
Looking deeper at the key attributes of a company's BHAG. Here are 3 practical tests of your BHAG: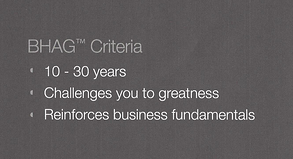 Your BHAG drives you and your strategy, with a 10 to 30-year time window.
It should be challenging enough so that you are not sure how you are going to reach it and it challenges you to greatness (inspires).
It reinforces your business fundamentals – it aligns and supports your One-Page Plan.
Fred DeLuca, the co-founder of Subway, started the business to fund his school expenses. He describes his early success in his book Start Small Finish Big.
His professor asked him to pick a 10-year BHAG and his original BHAG was 32 Subway restaurants in 10 years. It's interesting to note that his first site failed. It was in a bad location.
Once he achieved this goal of 32 restaurants (which seemed nearly impossible to Fred when he set it), his new BHAG was 5,000 stores.
After reaching this goal, he lost his way and the company floundered for a period of time. Why? Because he did not set a new BHAG to inspire the leadership team and challenge them to further greatness
His next BHAG was to gain 50 cents of wallet share from every American every week. It completely changed his strategy. We see this with the locations of new Subway outlets – not just storefronts, but now in airports, malls, Walmart's, and many other creative locations where there is "hungry traffic!
In the past few years, the Subway leadership team has set a new BHAG (it appears) as they turn their focus to international growth and expansion. In a recent interview, Fred shared that Subway's goal (BHAG) is to have 100,000 restaurants worldwide by the year 2030. Wow…that will be quite an accomplishment and definitely challenges them to a new level of greatness.
Here are some key points to have in mind as you consider and craft your BHAG:
1) We will start off by determining our BHAG or Big Hairy Audacious Goal, a term coined by Jim Collins and Jerry Porras.
2) As the name implies, it is a 10 to 30-year lofty goal, similar to Kennedy's legendary goal of "a man on the moon in 10 years." This lofty goal challenges your firm to greatness. It needs to be at least 10 years out. When JFK announced this after Sputnik was seen in the October sky in the United States in 1958, many scientists and engineers thought he was off his rocker! But it challenged the scientific minds to get out of the box and pursue a solution.
3) Any company can go from "Good to Great," according to Jim Collins, if they have an understanding of the intersection of the three following elements. This is called a Hedgehog.
What are you deeply passionate about (your company's Core Purpose)?
What can you be the best in the world at (figuratively – not the physical world, your world!)?
What drives your economic engine (and of course the KPIs)?
Where the three questions overlap is the sweet spot of your BHAG – the common intersection leading to focus.
3-5 Year Plan
To lay the foundation to build our Execution Plan on the right side of the One-Page Plan we need to craft your 3-5 Year Plan. This includes your Financial Targets, your Sandbox (where you will "play" in the market); and your Key Thrusts and Capabilities, which we refer to as your "Chess Moves."
Consider this as a base camp on the way to reaching your BHAG. Pick a future date 3-5 years out and choose your target revenue. Remember the "Rule of 72" for growth rates and use it to check your projected (desired) growth rate versus your historical average. We do NOT want history to constrain our growth; however, we need to ensure you have a plan that is realistic enough to execute into the future (even if you need to add resource to do so).
The Rule of 72 works on the following principles:
72 divided by your annual targeted growth rate will yield the time in years to double your revenue.
72 divided by the number or years in which you would like to double your revenue yields your target annual growth rate.
After you have determined your total revenue over the 3-5 year period, now determine the mix (ratio) of existing products/services revenue and new products and services revenue you will need to achieve your goal. This simple comparative exercise will help show you the gap between what you have today to generate revenue and potential target revenue that will require you to innovate with new products, services and offers to your Core Customer – or new Core Customers you target.
Then, consider other key Financial Targets you wish to aim for and focus on up to 5 total. Consider Gross Margin, Net Income, Market Share, Labor Productivity, Team Talent and your BHAG.
Key Thrusts & Capabilities
Your key priorities that span 3-5 year timeframe
The strategic "Chess Moves" that position you for growth
Bold move toward BHAG achievement
Balance of Productivity, Product and People "moves"
Innovation Window
Dave Power is a thought leader whose book "The Curve Ahead" discusses why growth companies stop growing and how to prevent your company from falling into the trap of flattening growth strategically through time. The key is to proactively create an internal Innovation discipline in your company. There are a handful of key components of an Innovation Discipline within a company's culture and operations, but we will not have time to go in depth now.
Two key principles:
The Innovation Window
The Core Innovation Process
What Dave Power has found in his research is that companies tend to be too fixated on their initial growth product sets and have unrealistic expectations that their original product sets – thought dynamic and strong revenue drivers – will continue to drive revenue beyond what experience and research dictates. He has highlighted a critical season in time wherein strategic thinking companies will invest in innovation in order to create the next step of strong revenue driving products to propel the company toward their next set of 3 to 5-year goals and BHAG.
Proper planning and execution in the Innovation Window will ensure smooth, steep growth into the future. Think of Apple: They continuously innovated "within the window" with successful products such as the MacBook Pro, the iPhone, iTunes, the iPad."
Check out Positioning Systems blog What's Your Innovation Process Look Like? In it I provide an example of one of my customers going through this Growth Tool exercise.
Decisions equal success. There are four decisions People, Strategy, Execution, and Cash, in growing your business, that you must get right or risk leaving significant revenues, profits, and time on the table. We've explored People and Strategy, next blog we move to Execution.