Last blog in Key Performance Indicators we presented the value of speaking to customers and employees routinely and why these measurements can be so powerful to your business.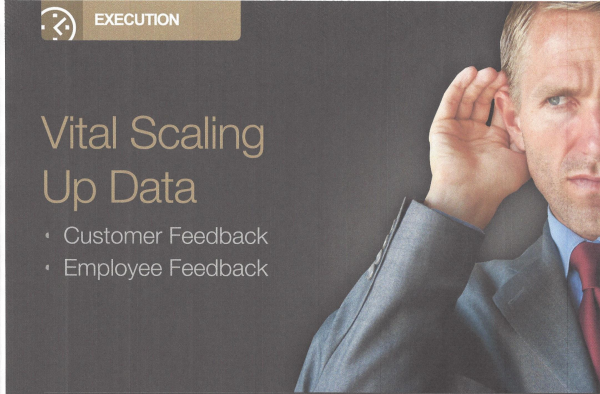 If talking with customers and employees routinely is so valuable, why do leaders stop doing it?
It's simple really. It's because they continue to hear the same recurring issues or praise over and over. Taking time from your busy schedules to listen to stories which seem to have zero relevance to your business doesn't make sense. However, it takes only one or two key ideas to fuel a business model.
One of my customers, a beverage distributor, began collecting customer feedback and quickly discovered a wealth of confirming positive feedback as well as new ideas and opportunities where relationships could be strengthened and improved. It wasn't too long before they were overwhelmed with helpful ideas and constructive methods to help their customers. Unfortunately they discontinued collecting the information.
Why? No one in their organization is strictly in charge of Customer Advocacy. It became too much work to make sure reps were collecting the information, leadership reviewed it, and action steps were produced in order to get feedback on the results these steps had produced.
We strongly recommend a Customer Advocacy position to any company with over 20 employees, even if they are initially doing it part time. Ultimately you want someone in this position who is separate from sales, operations and finance so there is no prejudice for any department. The position should be as autonomous as possible to get unvarnished information.
In Customer & Employee Feedback from Weekly Meetings Drives Business Growth we shared Janie and Victor Tsao story. They started Linksys [router systems] in their garage in 1988. Despite much larger competition including Cisco [who eventually purchased them in 2003] Janie and Victor managed to stave competitors off and become a leader in their industry. Each week Victor would gather information on his customers and review employee's feedback, sift through the data and look for emerging patterns. Over time he was able to see issues and opportunities which Linksys continually capitalized on. He believed this weekly routine of gathering and pouring through customer and employee feedback helped him to stay 2-3 weeks ahead of their competitors. Linksys consistently launched innovations first to market enabling it to enjoy a powerful competitive edge in the marketplace.
Several months ago I shopped for a router at Best Buy. The sales representative steered me away from Linksys, simply because they weren't as reliable anymore. Is that a testimony for customer and employee feedback?
Closer to home, one of my customers, Ideal Computer Systems worked diligently on their version of the NPS score. They also chose an Average Speed of Answer metric to monitor since their business is driven by customer support turnaround time. An industry consultant recognized their outstanding support and response time when working with a client. His recognition helped get Ideal Computer Systems into a prominent industry trade show displaying their system to prospective customers. The impact of that presentation helped drive sales in 2010 nearly 35% ahead of the previous year enabling record profits. In November of 2010 my client sold his business - a goal he'd had for some time. All of this started with a dedication to customer service and a commitment to discovering qualitatively and quantitatively how customers perceived their business.
The suggestion here – you need to hang in there! Embrace the human aspects of these conversations, and relish the moment the light bulb goes on — it will!!
Employee Feedback
We recommend that all executives (and middle managers) have a Start/Stop/Keep conversation with at least one employee weekly. Even though you might see a lot of your employees each week, stopping by for a casual chat or two, that is not the same as having a 15- to 45-minute focused conversation with an individual or a group of employees to gather feedback and ideas. Choose employees who work directly with customers and those newest to the company. Recent hires will have fresh eyes that lead them to notice things longer-term employees have come to accept. Here are three simple questions that we recommend you use when holding these conversations:
• What should we start doing?
• What should we stop doing?
• What should we keep doing?
Here's another story from Scaling Up based on Rockefeller Habits Checklist #5: Gather "Have you noticed the humongous Big Ass Fans in airports and warehouses around the world? Manufacturer Big Ass Solutions, a rapidly growing Kentucky firm, rocketed from $34 million in revenue in 2009 to $115 million in 2013. More important, its employee retention is 93% vs. a US average of 63%. Founder and Chief Big Ass Carey Smith (now that's a title!) has driven a series of initiatives. Besides offering top-tier perks — including an on-site health clinic, subsidized catered lunches, and a game room (hey, this isn't Silicon Valley) — Smith and his top managers take half a dozen workers to dinner at one of the area's best restaurants each week. What better way to tap into the rumor mill, pick up ideas, and share a little bit of the company's DNA with the team?"
After General Electric's Jack Welch visited Wal-Mart (yes, industrial firms can learn something from retailers and vice versa), he implemented Quick Market Intelligence, which Jeff Immelt, the current CEO of GE, has continued. In essence, all salespeople in GE must communicate daily or weekly what they are hearing about competitors and learning in the field from customers. The organization disseminates their insights rapidly to the rest of its team.
For an excellent look at the "Growth Process" at GE, read the interview with Immelt in the June 2006 issue of the Harvard Business Review. You'll see how GE is using a red, yellow, and green measurement system; measuring advocacy by customers using the Net Promoter Score; streamlining with Lean and Six Sigma techniques; and using Work-Out sessions to garner feedback from employees. The interview describes a tour de force of best practices that align closely with the ideas in from Scaling Up.
We discussed human behavior performance, superior human relations and how these can impact employee performance in INDIRECT EFFORT - 85% of Joy in Life Comes from Relationships and To Improve Your Relationships Improve This based on Brain Tracy's Psychology of Achievement early in December. Next blog we'll explore the Four Steps to "Make Others Feel Important."