Have you considered whether or not your business needs a business coach? Do you have the right structure for Annual and Quarterly Planning? What elements of Strategy or Execution can your business do better to achieve increased results?
Does your business have a catalyst that helps accelerate the growth of your business? As described in What's a Catalyst?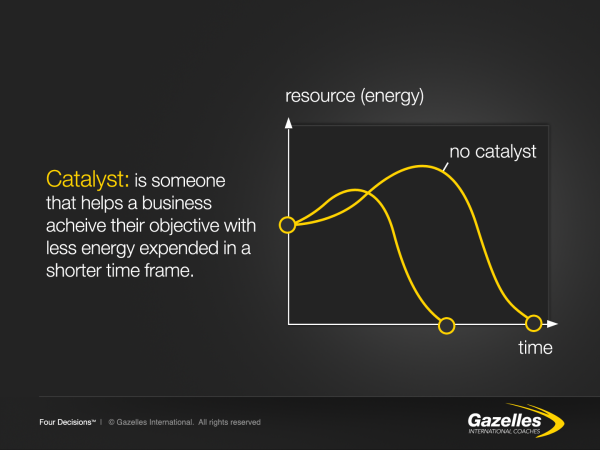 A Catalyst is a resource or tool that enhances positive change so that the desired outcome is achieved with less energy output and\or in a faster, timelier manner.
Perhaps you have questions on whether a catalyst makes sense for your business. Wednesday November 12th is the perfect opportunity to determine what your business may be missing in terms of a catalyst as well as how your strategy and planning for 2015 can be improved to encompass best practices that have proven successful to tens of thousands of small to mid-sized businesses. It's also an opportunity to receive a copy of Verne Harnish's new book, Scaling Up: How a Few Companies Make It...and Why the Rest Don't (Rockefeller Habits 2.0).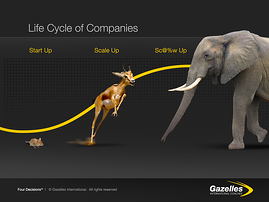 This picture looks at the life cycle of a company from birth, through growth, to maturity and then dysfunction (often).
Many companies started by an energetic founder, with a great idea, who works hard to grow from no revenue, to the point of becoming a profitable company with a bright future.
However, most companies do not make it through this phase; it is a phase of high attrition. Once a company does make it through the startup phase and becomes self-sustaining (that is, self-funding through profitable growth or very close to it), they enter into the mid-market, which we define as companies $5M to $500M in annual revenue (turnover).
A subset of this post-start\mid-market up companies continues to grow rapidly and enter the "gazelles" phase: Companies that are growing at 20% or more annually for more than 3 years.
Gazelles business coaches, like Positioning Systems are especially trained to help companies like yours that are dedicated to growth and want to avoid the "screw up" phase of their business.
Here's a look at the agenda for our Four Decisions workshop coming up in less than three weeks in Cedar Rapids Iowa. If you wish to attend an event closer to your location you can view a list of Gazelles Coaches Four Decision Workshops in other cities here.
MASTERING THE ROCKEFELLER HABITS 4 DECISIONS AGENDA:

7:45 am Arrival / Check in
8:00 am Connection Exercise / Introductions / Four Decisions™ Overview: Introductions and Icebreaker to get to know participants and Coach. Quick overview of the Four Decisions every business needs to focus on to achieve growth: People, Strategy, Execution and Cash
8:45 am Cash Decision & Exercise: Cash Conversion Process is defined as the amount of time it takes from when you spend $1 until you make that $1 back. How long from when you spend money on your product or from when you pay for your services does it take for you to collect the money you spent? Learn five ways to find cash in your company to increase your fiscal efficiency and raise your profit margin.
9:30 am Break: There's a reason we take a break now. The Power of Full Engagement notes that the maximum time a person can concentrate is 90 minutes. At 90 minutes intervals we take breaks in this and every meeting we conduct to allow for recovery and maximum learning potential.
9:45 am Execution - Rockefeller Habits Checklist / Accountability / SWT: Review the Rockefeller Habits Checklist, Accountability Chart, and discover why Strengths, Weaknesses and Trends are an important element to add to your annual planning and strategy. Learn the updated "10 Rockefeller Habits" to flawlessly achieve consistent, precise, and predictable execution as you scale.
10:05 am People - Core Values I Topgrading / Performance Matrix: Discuss and develop Core Values, (Advanced Exercise for those who have Core Values already. Create a high level of credibility and enliven your identity with clarity on your company's core values. Topgrading Hiring Practices and a Performance Matrix to determine who your teams "A" Players are.
11:05 am Break
11:15 am Strategy - Core Customer / Brand Promise: Who is your customer and how can you differentiate your product or service in the marketplace. Intimately understand your target customer and how your brand promise is the uncommon solution they've been waiting for.
12:15 pm Lunch / Networking
1:15 pm Execution: Annual Plan (Critical #s / Goals / Priorities): Annual Planning should include a focus on ONE THING to achieve for the year, a priority to align your business top to bottom with clarity of purpose. What's the One Thing if you could accomplish would impact the business the most? We'll look at why planning also needs balance between process and people goals.
2:15 pm Execution: Quarterly Plan (Critical #s / Goals / Priorities): Strategize your most critical short-term decisions for your 13-week race with focus on your annual initiatives, critical number(s), quarterly priorities and metrics.
2:30 pm Break
2:45pm Execution: Quarterly Plan (Critical #s / Goals / Priorities) [Continued]
3:40 pm Execution: Strategic Discipline - Priorities, Metrics & Meeting Rhythms: How do you get everyone on your team aligned with your priorities, focused on performance and communicating how they're completing their objectives? You'll learn the required disciplines to create a cadence of accountability.
4:30 pm Review of Concepts / Actions / Next Steps / Closing Exercise: Two best practices we recommend our clients follow is to consistently ask customers for qualitative and quantitative customer feedback. We ask for both in this exercise, getting your verbal feedback and asking you to complete an NPS form to give quantitative input on the workshop and the presenter's performance
5:00 pm Workshop Adjourns
We suggest that you do some PRE-SESSION HOMEWORK for teams. This includes Read Four Decisions White Paper (3 pages), complete a SWOT Exercise and Review Gazelles "1-Page Plan" After you register we'll send these to you prior to the Workshop.
Finally come to the workshop with an open mind, but most importantly be prepared to follow three important rules from Jim Collins Good to Great:
1) Brutally Honest
2) No Shame, No Blame
3) Disagree and Commit
Please decide to join us for Mastering the Rockefeller Habits Four Decision Workshop. Download the Mastering the Rockefeller Habits Four Decision Workshop flyer. Register to attend this event November 12th in Cedar Rapids