Why are some people able to muster more will power than others?
If you've been following this blog recently you've been gathering information from Charles Duhigg's The Power of Habit: Why We Do What We Do in Life and Business.
We shared how Starbucks is gaining previously undisciplined employees to suddenly develop the willpower to show up on time, work hard, and deliver great customer service under duress.
These employees receive 50 hours of training and help developing their inflection scripts to deal with rude or dissatisfied customers. The book notes that people who don't feel they are able to control the environment they're in frequently have less will power. Translation: If you feel you are not in control of your circumstances the possibility of you being a lower performing student or employee is much greater.
Willpower can be trained, and as noted in Alcoa's Key to Safety Success: Communication & Keystone Habit, Paul O'Neill's One Thing Priority – Safety, provided Alcoa with a Keystone Habit that transformed the company.
Chinese philosopher Confucius said, "The man who chases two rabbits catches neither."
In most business the leadership team and each department is chasing their own priority or priorities. Rarely are their priority aligned with what the organization deems most important. It results in a lot of tail chasing, miscommunication, conflicted prioritizing, and failure to reach objectives.
One of the benefits of Strategic Discipline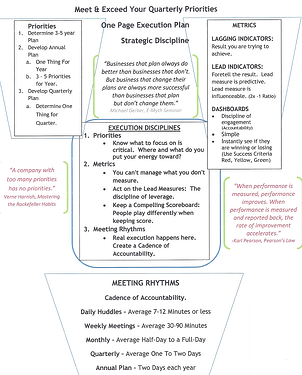 is the power to communicate better and focus energy on the right priority. It allows the business to align from top to bottom through unified decision-making on the top priority of the company, develop metrics to monitor progress, and provide key communication through a consistent set of meeting rhythms.
Executed properly Strategic Discipline helps identify and provide the necessary elements to structure your business to meet or exceed your quarterly priorities each quarter.
In order for your company to reach its objectives you need to have superior execution which starts with your leadership team. Without a disciplined set of rules and behavior your company will continually be confounded by the whirlwind of activity that takes up day to day operations. If you are serious about achieving your objectives this is the necessary discipline required. These principles are based on the Rockefeller Habits 4-3-2-1 formula for growth that have helped thousands of small to mid-sized companies succeed. They are also based on The Four Executions of Discipline by Chris McChesney, Stephen Covey, and Jim Huling.
The bottom line: It works. When followed correctly it virtually guarantees you will meet or exceed your #1 Priority each and every quarter. One of the keys to success is establishing habits that enable willpower.
Priorities for each quarter will be identified, with ONE THING (Wildly Important Goal) to take precedent over all others. Metrics will be determined to monitor progress toward achieving your top priorities. A set of accountability meetings will be established with specific agendas to assure your leadership team is meeting or exceeding the priorities. Rules for adjustments when targets are not being met or exceeded will be set.
The key elements to achieving consistent predictable results is developing the keystone habits for identifying priorities, determining metrics to classify your efforts as to your success, and finally the meeting rhythm habit of discussing progress or obstacles to reaching your priority.
We've designed a One Page Sheet: Control and Execute – Meet and Exceed Your Quarterly Priorities, to provide a quick outline of the necessary steps in order to keep our Gazelles customers on track. It's shown here in this blog and you can get a copy for your business simply by sending me an email with Control and Execute in the subject line.
The second page of Control and Execute outlines the Rockefeller Habits 4-3-2-1 formula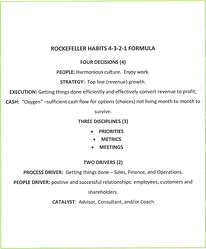 for success. It includes Four (4) Decisions: People, Strategy, Execution, and Cash, Three (3) Disciplines: Priorities, Meetings, and Metrics, Two (2) Drivers: Process and People, and One (1) Catalyst.
If you'd like to learn how to implement these habits and train your people how to effectively communicate and make better decisions, then plan to attend Mastering the Rockefeller Habits Four Decision Workshop. Download the Mastering the Rockefeller Habits Four Decision Workshop flyer. Register to attend this event November 12th in Cedar Rapids.
Next blog a key habit for time management: Why knowing how willpower works can help you get more done each day.