After a couple of games where his Pittsburgh Steelers hadn't played very well, Chuck Noll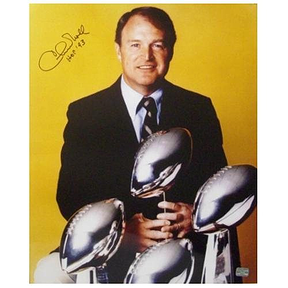 called his team after practice to put a "boot up the ass" and jolt them out of their complacency. According to Rocky Bleier this is what he said,
"Let me tell you a story about two monks who are on a journey. Some time during their journey they stop at a clearing, and in the clearing is a stream, and they stop at the stream. On the one side of the stream is a fair maiden trying to cross. And the first monk, without any hesitation, crosses that stream, picks up the fair maiden and carries her across and sets her down. The two monks carry on in silence. Sometime later on their journey they stop at another clearing. The second monk says to the first, 'You picked up that maiden. Do you know it's against our beliefs and our religion to come in contact and touch a person of the opposite sex?' The first says, 'I set her down back there, but you carried her all the way here.'
We broke out of the huddle and walked back to the locker room and guys were like, "What the hell did he just say?" Eventually I figured it out: Our failures are back there. We move on.
Chuck Noll died June 13th at age 82. In Rocky Bleier: The Chuck Noll I Remember Bleier recounts several stories about the coach and his impact on him and his team.
Reading Bleier's account made me realized why legendary sports figures are so often in demand by the business community for speaking engagements. So much of sports demands discipline, developing good habits, preparing for challenges that occur during a game. Strategic Discipline requires businesses to develop meeting rhythms to build strong habits that improve communication and keep priorities, metrics and customer and employee feedback front and center in a growing organization.
Building habits was a strong commitment to Noll as Bleier notes in the article, "Chuck had a theory that we all eventually subscribed to: Habits are created every day in practice, and they carry over to the game—whether it's 102 degrees on the field or 30, whether it's raining or snowing, whether you have a 300-pound defensive tackle in front of you who's pounding on you every day or no one at all. In the third and fourth quarter, you don't think; you react."
Is that what you want your leadership team and their employees to do? In sales as an example if you have to think about what you're going to say with a client, often it's too late.
Noll also had some strong beliefs about people and motivation. Just as we recommend Topgrading to our clients for achieving success with top quality players so did Noll. Bleier offers, "Chuck would say, "It's not my job to hold your hand. It's my job to take motivated people and show them how to become better.
Furthermore Noll wasn't afraid to face the brutal facts. Rocky Bleier wasn't there when Noll started with the Steelers, but apparently the story of what he said was handed down to impact those who would become Pittsburgh Steelers in the future, "He set the tone when he was hired in 1969, while I was still at war. The story goes, he introduced himself to the team like this:
"I've been your head coach for the past five months, and I've watched every film of every practice of every game that you've played in over the past three years, and I can tell you why you've been losing—you're just not any good. You have no talent, you have no authority, and you can't cover, and you have no discipline. By the time this training camp is over, most of you will not be here."
"He had the magnificent quality of being blunt without embarrassing people. If he was disappointed, he would give you that fatherly look like, What the hell."
A great leader isn't someone who simply wins or grows revenues and profits. Level 5 leaders (Jim Collins name for Good to Great leaders) also influence their team far beyond the scope of the workplace.
"Coach had a way of doing things, and it worked. And if you spent enough time around him, some of his way became your way. Much like the Packers talk about Vince Lombardi and Lombardi-isms, we speak in Chuck-isms. For many of us, his fundamentals of football became the fundamentals of life."
Discipline is an important fundamental in any winning program, business or sports. To find out how well your team discipline is, download the Rockefeller Habits Checklist.
If you'd like to discover how your team really feels you're doing against these fundamental practices send me an email with Team Rockefeller Habits Checklist Assessment in the subject line. We'll set up a link for team members to score how they feel you're meeting the discipline standards of the Rockefeller Habits. When the team scoring is completed we'll send you the results.
How do you feel about yourself? Is your reciprocity style (giver, taker or matcher) have anything to do with how much you feel loved? Next blog we'll continue to review Give and Take.