A number of books I've read this past year suggest that being a good company, having a Core Purpose (Patrick Lencioni's The Advantage), and Brand Ideal (Grow by Jim Stengel) and focusing on the humanity of your business can make you not only more successful but more profitable.
Two more books are driving that same message and provide resounding evidence that companies that follow three simple rules around being a "Good Company"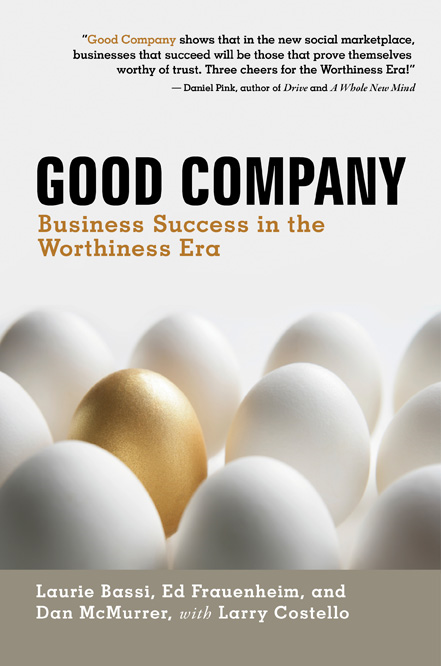 can be more successful than Jim Collin's Good to Great Companies and the S&P 500. All this is based on research over the past 15 years.
The frame for a Good Company is defined in the book by the same name and authored by Dr. Laura Bassi and her co-researchers / authors. They specifically focus on three areas from their research that Good Company's stand out:
They are value creating organizations committed to their culture and community of employees.

They use business intelligence to balance the concept of an employee as a cost and the employee as an asset.

They possess authentic core purposes: A difference they are making in the world.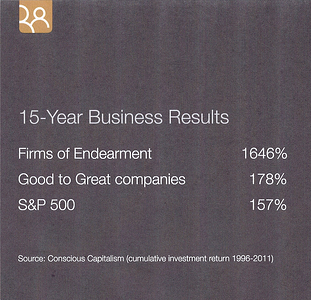 Now take a look at the charts. In his book "Conscious Capitalism", John McKey, the founder of Whole Foods, shares comparative data on what he refers to as "Firms
of Endearment" companies – companies that focus on a dynamic balance between Core Purpose and sustainable Profitability; and S&P 500 companies, and also Jim Collins' Good to Great companies from his research and the book of the same name published in October of 2001.
In a striking comparison, the "Firms of Endearment" companies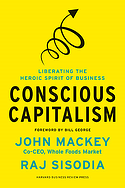 outperformed the two comparative category companies by almost 10x. You can possibly make a caveat or highlight the fact that the Great Recession of 2008-2012 was an almost 100 year wrinkle in the global economy; yet the fact that the results are 10x warrants our attention and asking the question:
"Why?"
Here are the five attributes from Dr. Bassi's research.
Reciprocity

Connectivity

Transparency

Balance

Courage
At one time big companies would do anything to deliver profits and earnings to shareholders. There was less concern about the environment and employees. Movies like Norma Rae, and Erin Brokovich highlighted these kinds of injustices.
What's refreshing is a good company who does right by its employees, customers, community and the environment can not only succeed but prosper by comparison. It makes being a good company something to strive for.
It brings to mind Cicero's quote, "Virtue is its own reward."
It seems for a long time many believe that's all virtue was. At least that would be true by how you saw companies acting.
Now there's plenty of support to believe otherwise. The soft subjective areas (Core Purpose, Core Values, Recycling, Community Support) of your business pay dividends, in fact by viewing this chart they provide enormous dividends. Suddenly virtue can be equated to greed in its outcome. You don't have to be devious or stealthful to succeed. You can and should do the right thing.
John Henry Newman perhaps understood what many companies are now coming better grasping. He said, "Virtue is its own reward, and brings with it the truest and highest pleasure; but if we cultivate it only for pleasure's sake, we are selfish, not religious, and will never gain the pleasure, because we can never have the virtue."
What does it all mean? It means those of us with a conscious, those of us who have long felt it was best to do right at all times, can and will experience the benefit of the morals and good judgment we've always recognized.
Another author/speaker from the Growth Summit, Adam Grant expresses similar ideas in his book Give and Take, A Revolutionary Approach to Success. One nugget from that is surprising; the people who fail and succeed most have the same profile. We'll look at this more in a future blog.
First a look at another compelling book that is guaranteed to provide a formula for success along with a rant from me about why you and I are not achieving everything we want.