Most of us struggle to get out of our comfort zone. Yet it's the one thing, done frequently that can dramatically transform our performance.
Public speaking is unrivaled as being out of just about everybody's comfort zone. You've heard the statistics, what do most people fear more than death?
Public Speaking!
Last blog Finding People to Lead & Manage we discussed the challenges of finding managers and leaders. Just one in ten people are qualified, while another two in ten can be trained and mentored to qualify.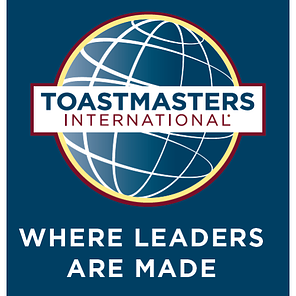 Attending a Toastmasters' meeting for the first time in over two years reminded me of the value this confidence building and leadership training solution provides.
Toastmasters Mission Statement: We provide a supportive and positive learning experience in which members are empowered to develop communication and leadership skills, resulting in greater self-confidence and personal growth.
Doesn't that sound like a pretty good environment to grow leaders and managers?
Witnessing several group members get up and speak at length (5-7 minutes) and then several others speak impromptu in the table talk section of the meeting you recognize how they overcome fear, gain confidence and experience personal growth through getting up in front of a group. If you've not considered Toastmasters as a tool to help you improve your leadership skills I strongly suggest you do.
A Mission Statement or Core Purpose (I find these to be the same definition for these names) in the case of Toastmasters reveals a powerful message on the intention of this group. Whoever created it did a wonderful job with clarity. If you've been in Toastmasters you are aware of the experience. At the conclusion of the meeting several members evaluated each performance of the main speakers. They focused on the intention of the speech, the strengths and weaknesses. It's done in a fashion that exemplifies constructive criticism. Focusing on the positive first initiates an affirmative approach that opens the mind to the subsequent deficiencies that are also noted. Everyone is attending to learn and grow. It's not just the speaker who learns from the experience, it's everyone in the audience since they're intention is to learn and master the ability to speak up in front of a group. Toastmasters' allows each individual to gain self-confidence and improve their ability to communicate at their own pace.
We've written several blogs about Core Purpose and how important culture is to growing your business, and making sure you have the right people on the bus. Another book Good Company offers insight into something they call the Worthiness Era. "Companies that become catalysts for social change and respond to rising consumer expectations that they and their brands help make the world a better place will not only survive, but also thrive, in ways their competitors will not," says Mitch Markson, president of consumer marketing at public-relations firm Edelman.
Here's my question. Does your company have a Core Purpose or Mission Statement? If you do when is the last time you used it? Does it come up with new employees when you are in the hiring process? How often is it mentioned in your meetings, and do you feel each and every person in your organization recognizes it? Do you feel it resonates with them? Why or why not?
If it doesn't resonate with your people, is it the Core Purpose or Mission Statement that's wrong, or is it the people that are wrong for your company?
Failure to achieve the priorities you're business targets may have a great deal to do with either a poor mission (Core Purpose) or simply the wrong people who don't care about it as much as you and many others in your company do.
Can you feel confident that your Core Purpose is as clear and compelling as Toastmasters International is? The lesson from Toastmasters today is two-fold. Developing leaders and managers to improve their capabilities is critical to achieving business success. Toastmasters offer a resource to improve your managers/leaders today. Toastmasters' also provides a clear view of what to expect from them, and a clear view of why a mission statement is so valuable to building your business.
If you're looking for a resource to help train your managers, consider toastmasters. If you're wondering why you may not be attracting and retaining the right people it may be your business lacks a meaningful Core Purpose. For the later let us know if Positioning Systems can help.
Speaking of comfort zones, it's easy to get into one. For the past two plus years I've been restricted in my movements. A recent visit to the clinic allows me more freedom. Can I break out of my comfort zone? That's next blog.