When Jack Welsh was at GE he had a philosophy to have less people, paid more with a lower total wage cost.
How could this strategy work?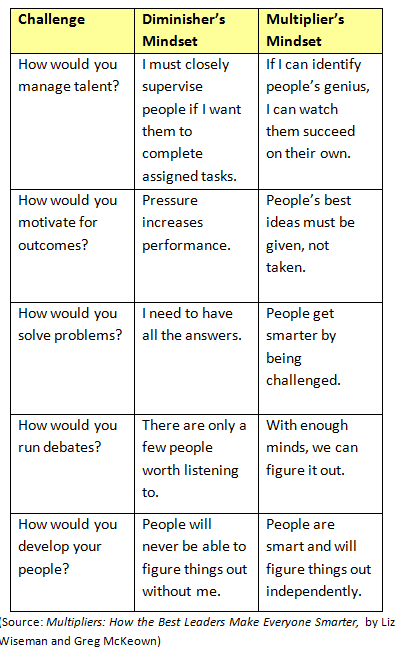 Only with exceptionally productive people – fewer people, doing more better, paid well – but with a net total wage cost that is lower.
Would you like to have your managers double their productivity with their people? Perhaps you'd like to double the productivity of the people you manage?
There are managers and leaders that do precisely that.
Last week a customer of mine had his leadership team watch the video on Multipliers (See Free Video Training Offer in right hand column of this blog). In the video Multipliers author Liz Wiseman discusses the new Economic Reality. More businesses are deciding to do more with less. How do you get more production without increasing your human capital?
How do you get your managers to get more from their people? It's the concept of Multipliers.
Liz Wiseman's video offers this example from Apple COO (at the time) Tim Cook. He demanded his leadership team create growth requiring them to do it without adding people. One of managers came back to Cook repeatedly promising to deliver the revenue if he added X number of people. Cook reminded him that growth this year would have to come without adding people. His manager was looking at things through the process of addition. Cook was looking at multiplication.
Another story Wiseman's tells is her own difficulty with her children. Working and being a mother is a difficult challenge. Complaining to one of her co-worker about her frustration in getting her children to bed each night, her coworker suggested instead of demanding, she only ask her children questions. That evening when it was bedtime she used the suggestion, asking her children, "What time is it?" They responded, "Bedtime!" Her next question was, "What do we do at bedtime?" Again their response, "brush our teeth and get our pajamas on?" More questions, "What do we do next?" Response, "Read a story!" "Who has a story?" The questioning went on until she had her children tucked in. Bedtime had never gone so smoothly.
This is how Multipliers differ from Diminishers. They ask questions to engage the intellectual curiosity of the people they lead.
Take a look at the chart on the differences between a Multiplier and a Diminisher's mind-set. Where does your leadership style fit? You can find out if you're guilty of being an accidental diminisher by taking a free quiz at: http://multipliersbooks.com/multiplier-effect-book/take-the-quiz/#.UzQt3vldXA8
Wiseman and her co-author Greg McKeown researched more than 150 executives and drew on her own experience as a former executive at Oracle.
We've all had bosses we loved working for and others that seemed to drain our intelligence and energy. The video concisely provides what the differences in this type of leadership, offering the terms Multipliers for the former and Diminisher for the latter. The video is particularly instructive for leaders and managers who are striving to get the most out of their people. It's a must for any company wanting to achieve more with less. Multipliers achieve more than twice the productivity of Diminishers.
A quote from Bono on George Clooney, Time Magazine, The Time 100: The World's most Influential People May 11, 2009 is offered as excellent insight into the difference between a Multiplier and a Diminisher. "It's been said that after meeting with the great British Prime Minister William Ewart Gladstone, you left feeling he was the smartest person in the world, but after meeting with rival Benjamin Disraeli, you left thinking you were the smartest person."
If your business is consistently striving to achieve more with less watch the video. It's one hour and fourteen minutes long. Pouring more money into technology, more people and resources is an answer that produces the same result. It's growth by addition. For real breakthroughs your business needs growth by multiplication. Getting your leaders and managers to become multipliers, to understand how to function better in their leadership positions, is the best way to achieve significant improvement in your business without adding cost.
On the topic of productivity, if your business would like to learn the important disciplines that great companies use to achieve success, download the Mastering the Rockefeller Habits Four Decision Workshop Flyer and Register to attend the workshop on April 29th in Cedar Rapids, IA.
Daily Huddles are part of Strategic Disciplines Meeting Rhythms to develop a cadence of accountability. If doing something once a day is good for business, is doing it twice double the impact? Next blog will learn how a twice daily huddle provided my customer with both insight and a significant increase in accountability.