"Everybody talks about the weather, but nobody ever does anything about it," is a quote attributed to Mark Twain.
That same phrase might be used to describe training and education in a lot of small to mid-sized companies. Several businesses I know and work with are truly serious about training and developing their people.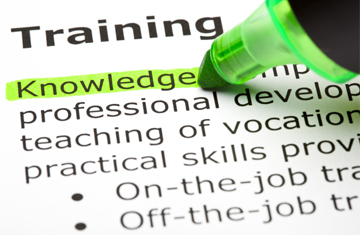 It takes real dedication, planning, and forethought to initiate and follow through on a people development program that truly educates and trains your people.
Part of the challenge is simply making time to dedicate to this area of your business. Another is choosing educational material that specifically targets employee skills required for each position in your company. Finally you need to determine which leadership training and educational tools can best expand your employee's leadership capabilities.
One aspect of developing leadership is similar to osmosis. Leaders learn by watching other leaders lead. The environment for learning created by Strategic Discipline's meeting rhythms provides a perfect atmosphere to train leadership on the culture, decision-making and your company's thought process through observing the current leadership.
Improving leadership development is an important element of Positioning Systems and Gazelles coaching philosophy. The newest addition to our tool set, Gazelles Growth Institute can help you with your leadership development immediately. For a limited time we're offering several top thought leadership training videos to readers of this blog absolutely free. The best-selling leadership tools, the books, and top thought leadership you've read and heard about is now available to you through Internet access in the form of 60 to 90 minute videos.
Here's a quick example of the videos you can review and use for a limited time free through Positioning Systems exclusive relationship with the Growth Institute:
Five Dysfunctions of a Team
In The Five Dysfunctions of a Team, Patrick Lencioni offers a leadership fable that is as enthralling and instructive. Lencioni reveals the five dysfunctions which go to the very heart of why teams, even the best ones-often struggle. He outlines a powerful model and actionable steps that can be used to overcome these common hurdles and build a cohesive, effective team. The teamwork of your leadership team is crucial to achieving results. At the bottom of the five step triangle to creating results is trust. Does your team trust each other enough to generate the outcomes you want?
Multipliers: How the Best Leaders Make Everyone Smarter
Liz Wiseman teaches leadership to executives at companies like Apple, GAP, NIKE, Microsoft, and Roche. A thought-provoking, accessible, and essential exploration of why some leaders ("Diminishers") drain capability and intelligence from their teams, while others ("Multipliers") amplify it to produce better results. This video describes two different types of leaders, multipliers and diminishers. Discover how your leaders can become multipliers.
Purple Cow
Seth Godin is called "America's Greatest Marketer." He has the number 1 marketing blog in the world and is the thought leader on the subject of marketing with 14 bestselling books. Purple Cow describes something phenomenal, something counterintuitive and exciting and flat out unbelievable. Every day, consumers come face to face with a lot of boring stuff-a lot of brown cows-but you can bet they won't forget a Purple Cow. And it's not a marketing function that you can slap on to your product or service. Purple Cow is inherent. It's built right in, or it's not there. Period. In Purple Cow, Seth Godin urges you to put a Purple Cow into everything you build, and everything you do, to create something truly noticeable. It's a manifesto for marketers who want to help create products that are worth marketing in the first place.
Great Game of Business
Jack has been called the "smartest strategist in America" by Inc. Magazine and one of the "top 10 minds in small business" by Fortune Small Business Magazine. Jack is a contributing editor for Inc. Magazine and contributing business writer for The New York Times. The Great Game of Business started a business revolution by introducing the world to open-book management, a new way of running a business that created unprecedented profit and employee engagement.
The Ultimate Question 2.0
Fred Reichheld is the "go to" expert in the area of building customer loyalty and retaining employees. In the first edition of this landmark book, business loyalty guru Fred Reichheld revealed the question most critical to your company's future: "Would you recommend us to a friend?" By asking customers this question, you identify detractors, who sully your firm's reputation and readily switch to competitors, and promoters, who generate good profits and true, sustainable growth. In this thoroughly updated and expanded edition, Reichheld, explains how practitioners have built Net Promoter into a full-fledged management system that drives extraordinary financial and competitive results.
Who: The A Method for Hiring
Geoff Smart and Randy Street interviewed more than 20 billionaire entrepreneurs exclusively (a record) to collect their best advice and stories on the topic of hiring and hiring mistakes. Geoff Smart and Randy Street provide a simple, practical, and effective solution to what The Economist calls "the single biggest problem in business today": unsuccessful hiring. The average hiring mistake costs a company $1.5 million or more a year and countless wasted hours. This statistic becomes even more startling when you consider that the typical hiring success rate of managers is only 50 percent. Searching for the right people to make your company grow, it's all about Who.
Certainly at least one of these videos can provide leadership and training to your current team of leaders. Take this special limited time offer to view one video and begin the process of taking education and training seriously at your business. Just click on this link to Outlearn Your Competition and choose the video you'd like to get started.