We shouldn't spend too much time in the past. It can lead to repeating mistakes. Yet it's important to review mistakes and successes to gain the full understanding of what we can from our failures and triumphs.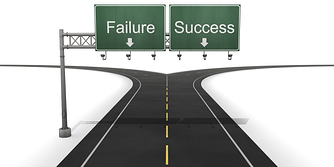 Recently I lost an opportunity to work with a prospect that I'd been cultivating and nurturing for several years. My connection goes back to November of 2011. At the time he was working for another firm and in the past six months with several partners started their own firm moving away from the company they worked for because they weren't as progressive and open to a lot of the education and training ideas he accepted and enjoyed from the Rockefeller Habits. Of course their new company also saw a great opportunity in their industry. Since starting in mid-August they have exceeded their forecast, billing over $1M in revenue and expanding already to 26 employees! They expect to reach 60 employees by year end.
It's a tremendous opportunity for them and I felt an opportunity to earn the right to be their Gazelles business coach.
Unfortunately I lost the opportunity when several of the owners in the group (4) decided they prefer to work with a local Gazelles coach.
Naturally I'm disappointed. After spending a day or two licking my wounds I realized that this was my failure to conduct a sound list of questions which would have either helped to improve my opportunity or disqualified the prospect earlier. Every sales opportunity, every mistake, or success provides an event to review and determine what went well and what didn't. With it is the ability to change in order that the next event improves or continues to follow the same success pattern for the future.
In this situation I recognized I should have asked to get in front of all the decision makers rather than speaking to just one. I should have discovered very early whether someone local would impact their decision making. What was there criteria going to be for choosing a coach? These are fundamental errors any good salesperson avoids. I failed to be true to my sales process, where all of these steps are included.
How frequently do you review your personal successes and failures? More importantly how often do you review your leadership team's triumphs and errors?
Positioning Systems makes this a habit in our Quarterly Planning/Strategy Meeting. We review priorities and scale these with the Success Criteria (Red, Yellow, Green, Super Green) to make everyone accountable for their responsibilities. At the same time we spend time on "What Did We Learn?" An example from meetings with new clients is the recognition that most plan to accomplish much more than the can in 90 days. As a leadership team grows in working through the quarterly planning process, setting priorities and meeting success or failure, they soon recognize that less is more. Success breeds success. Trying to get too much accomplished usually means we produce less. While focusing on less means we achieve only those priorities, we also pull with them a lot of smaller successes as well. Focusing on less we actually accomplish more.
Personal time spent on reviewing your success and failures is invaluable. Do you do this? Can you see where investing time to assess the achievements/priorities met or missed with your team is critical to attaining success in the future? Learning is all about experience. The investment in time with your team provides critical impact on developing each individual to improve and appreciate the knowledge and experience of the group. This is how leadership learns and absorbs the culture, maturity, know-how, and practices that go into building a business.
I've been offering quotes perhaps far too often in my blog, yet one that I really like in regard to this issue of learning and reviewing is by Psychologist Roy Baumeister, "We may spend 95% of our time in our cars going straight, but it's the turns that determine where we end up."
Don't miss an opportunity to learn from success and failure. Make sure you spend time to review your personal successes and failures, and make a habit of doing this practice each quarter with your team.
Next blog we'll take a look at why positive reinforcement needs to begin with you. When the leader reinforces the entire organization prospers.