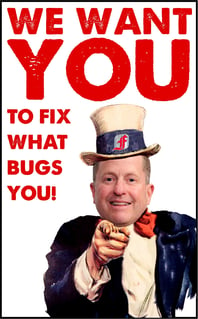 Combining ideas from the Growth Summit, celebrating a winning theme and initiating a new one can be a great way to experience growth in your business.
On Thursday my customer announced their 3rd quarter theme as well as rewarded several employees for winning their first trimester theme. The first trimester theme, Shark Tank, asked employees to contribute ideas that would save the company money. One industrious man, Nathan, developed an idea that saves the business $40,000 annually, by adjusting prices on repackaging their products. For this Shark Tank winning idea he received a check for $3000. Nathan shared his formula for winning and indicated he'd spent a little over an hour developing the idea. (Not bad return for $3K!) Another employee was honored with a smaller check for developing an idea that would save the company $1500.
When you look at the ROI from these winning theme ideas it's a pretty good investment in time and energy for both parties.
The theme for 3rd trimester is similar, based on an idea from the Orlando Growth Summit in May. "Fix What Bugs You" comes from Paul Akers presentation on 2 Second Lean. Finding an idea that can save just two seconds of waste may not seem like much, but as Akers reveals an improvement of 1/10th of 1% each day results in doubling your productivity in 3 years. My customer is asking every employee to come up with 2 ideas a month that improves their specific work area.
Every employee that accomplishes this will be given a $50 gift card, the team coming up with the most "Fix What Bugs You" ideas will be awarded a prize, and everyone will celebrate with a grandiose Holiday Party in January.
The intention is to empower employees to Fix What Bugs Them, and improve their work performance. As part of the initiation, Fleck Sales VP of Sales & Delivery, Mike Schulte, asked attendees to gather in groups to come with ideas in each of the 8 Deadly Sins of Waste. This effort intends to spark creativity and trigger the individuals with ideas to immediately get results.
Choosing a quarter or trimester priority is critical to succeeding. Yet one overlooked aspect of quarterly and annual planning is determining the specific activities that will drive results to achieve the priority.
My experience being a sales manager and almost losing my job my first year helped me realize that while setting goals is necessary, if you fail to set up a routine of habits/activities to drive achievement you will more often than not fail. It's how I developed the Index Card Execution for each of my sales people.
When I would meet with my sales people each week I would simply review the activities the sales person had written for achieving their specific goal for that month and quarter. If they weren't meeting the activities they'd outlined they knew the responsibility was on them. I'd often ask, "How do you expect to reach your goals if you aren't doing the activities you indicated were required to achieve it?" They would always nod in agreement; come back the following week with renewed energy and commitment having fulfilled these activities confident they would reach their goals.
Activities are the tools to achieve your objectives.

They should always be leading indicators to attain the priority you've set. As the knight says to Indiana Jones in the movie Indiana Jones and the Last Crusade, "You must choose, but choose wisely."
When I faced Acute Myeloid Leukemia in 2012 the priority was simple, GET MY CANCER IN REMISSION. The activities to achieve this outcome were much more difficult. I choose to use the same principles I coach my customers to use now to achieve their annual, quarterly or trimester priorities. The results I'd experienced with my customers provided the confidence to believe I would achieve the outcome I wanted despite the small odds the doctors gave me of success.

Several activities were important including eating right, keeping positive, exercising, and meeting with my doctors routinely. Yet none contributed more than the activity of meditating daily on changing the person I'd been and envisioning the outcome that I wanted. The practice of meditating once or more a day was the catalyst to help me achieve an outcome that allows me to still be alive today.
It took part of one quarter, another full quarter and part of third to achieve the outcome I'd hoped for. That's the other part of working on a priority. You will achieve more in a quarter with your One Thing focus than you would if you attempted to work on several priorities. Sometimes you fail to estimate how long it will take. Some things take longer. Just as the sculptor chisels away at the rock to reveal the exquisite statue inside it, our achievements can require more than 90 days to accomplish. Yet the One Thing focus will set the stage to achieve the outcome you want because of your solidarity commitment to the outcome. Time can be critical, yet the outcome in whatever time frame is often all that is necessary.
In my case time was critical. I was blessed that I was able to achieve the outcome I wanted and my time didn't run out before success.
We always recommend that whenever you develop Key Performance Indicators for your business it is in a ratio of two leading indicators (predictive) to one lagging indicator. Nowhere is this more important than on your quarterly or trimester priorities.
When you choose your priority for the next quarter, make sure you schedule enough time to determine which activities to serve as the leading indicators for achieving it. Nothing is more important to achieve success than choosing the correct activities to measure.
It results in getting the right things right.
Did you know thoughts are electrical, and feelings are magnetic? This concept explains why your business requires emotional elements like Core Purpose and Values. The NY Times story on Amazon revealed flaws in Amazon's culture. We'll explore this next blog.