Think of something as simple as brushing your teeth. It is not something that you ordinarily have to remind yourself to do, is it?
Remember from our last blog, Why You Need Positive Energy Rituals, A.N. Whitehead quote, "We should not cultivate the habit of thinking of what we are doing. The precise opposite is the case. Civilization advance by extending the number of operations which we can perform without thinking about them."
Our conscious capacity for self-control is limited and easily depleted.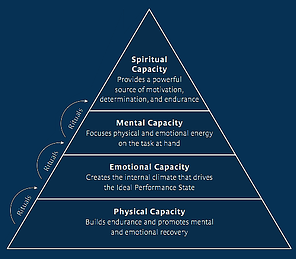 Every bit of energy we use to consciously control ourselves robs us of energy to perform somewhere else. The people who get the most done, the best athletes and performers don't necessarily have more energy; they have created rituals and routines that allow them to perform without having to think about it.
Look at any part of your life in which you are consistently effective and you will find that certain habits help make that possible.
Creating positive rituals is the most powerful means found to effectively manage energy in the service of full engagement.
How can you build and sustain the multidimensional energy that you need—particularly as the demands in our lives intensify and our capacity diminishes inexorably with age? Let's look to the The Power of Full Engagement:
PRINCIPLE 4: Positive energy rituals—highly specific routines for managing energy—are the key to full engagement and sustained high performance.
Will and discipline are far more limited resources than most of us realize. If you have to think about something each time you do it, the likelihood is that you won't keep doing it for very long. The status quo has a magnetic pull on us.
A positive ritual is a behavior that becomes automatic over time—fueled by some deeply held value.
So what are the key behaviors to build effective energy management and get more done?
Here are three keys:
Doing versus Not Doing
Incremental Change
Let's look at Precision and Specificity:
We've discussed Precision and Specificity in a blog previously. Writing down your top six priorities is one recommendation for getting more things done. Yet when you schedule the time and location of when you are going to do each of your priorities you accomplish more. Here's an example, using precision and specificity, on how dramatic this increase in productivity can be. One study: A group of drug addicts were studied during withdrawal—a time when the energy required to control the urge to take drugs severely compromises their ability to undertake nearly any other task. As part of the effort to help them find employment post-rehabilitation, one group was asked to commit to writing a short resume before 5 PM on a particular day. Not a single one succeeded. A second group was asked to complete the same task, but also was asked to say exactly when and where they would write the resume. Eighty percent of that group succeeded!
Doing Versus Not Doing:
You may have heard about using affirmations or perhaps even attempted to use affirmations to change your behavior. What you probably didn't know is that not doing something requires continuous self-control. As we indicated previously our conscious capacity for self-control is limited and easily depleted. When intentions are framed negatively – "I won't overeat" or "I will not get angry" our limited stores of will and discipline are rapidly depleted. You need to design a positive behavior to prepare for a particular situation. It's called priming. Make your affirmations positive present tense. Tempted to overeat, you might use, "When I'm tempted by desert, I will eat a piece of fruit instead."
Incremental Change:
You want to reach our goals as quickly as possible. Change requires you to move beyond your comfort zone. It's best initiated in small manageable increments. If nothing succeeds like success, it is equally true that nothing fails like excess. One of the reasons we fail to change our behavior and develop effective rituals is that we take on too much too quickly. Aubrey Daniels, noted behavioral expert noted this in explaining why Stretch Goals don't work. Gaining momentum is more important. Growth and change won't occur unless you push beyond your comfort zone, but pushing too hard increases the likelihood that you will give up. Next time you set a goal, set progressive benchmarks and you are likely to achieve much better results.
Remember if you can't perform a task effectively when you are relaxed and unpressured, it's unlikely you will be able to do so when pressure is high or you are in the midst of a crisis.
There are two more steps to using energy properly to achieve success and improve your performance in managing your time. First is a set of basic training rules which correspond nicely with Strategic Discipline's formula for metrics and dashboards. The next is finding the energy in the first place which requires creating a vision statement, purpose or mission. We'll look at these in our next two blogs.