Several nights ago I couldn't sleep. I began to think about my life and reflected upon a period of time when I was extremely shallow, at least in my pursuit of a relationship.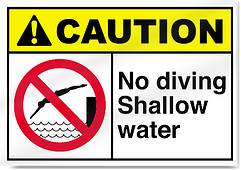 I'd been divorced for a couple of years, out of a relationship for a short time, and I began to focus on getting into a new relationship. However due to misplaced judgment and desire I concentrated on the physical part of the relationship.
I'm embarrassed to say this lasted for about 3-4 years and gave me no satisfaction. At a sports bar/restaurant one time with a friend and co-worker I recall him watching my wandering eyes as I stared and flirted with females in the establishment. I recall him calling me a stud, a rounder and a hound. It didn't hurt at the time, however thinking back I now realize how shallow I must have appeared to him and was.
Call me naive, self-centered, narcissistic or simply vain, you'd be correct. There is an application here that relates to your business. It's essential you recognize it.
How does this relate to your business? Shallowness is a problem in your business often highlighted by turnover and poor performance. Do you see any of these symptoms in your business?
What does your business stand for? What are the values of your organization? Does your business offer any underlying purpose for your employees to come in and perform each day? Simply paying your people a reasonable or even high compensation doesn't mean they'll be loyal or even engaged. As secretary of the US Commerce, Herbert Hoover provided this quote to remind us of the importance of culture in building a business, ".business needs a lifting purpose greater than the struggle for materialism."
At an annual meeting last week we reviewed my clients Company Core Values. This is a standard we recommend our customers follow at least twice a year if not every quarter. The team was asked to identify members who had represented the Core Values and tell stories that would serve as examples. Not surprisingly the team came up with several stories quickly. This company had recently gone through a transformation in teamwork and harmony (see Newsletter: Teamwork Thrives Through Strategic Discipline) that offered the president to announce at the end of the annual meeting, "this is the best year the firms every had!" When you've identified your values not only should you be hiring people with those values, your current team should live and exemplify them. The newest member of the team (3 months) indicated that several of the Core Values were critical to her decision to join the company. She's been most impressed with the harmony the company practices.
The company president was cited for one of the Core Values several times by his team. Several members of the team were question marks when we began the Rockefeller Habits and Strategic Discipline growth development process. These individuals have since stepped up and earned an important contributing role to the company.
Why would that happen? One portion could be the increased accountability of their positions as dictated through the Topgrading Job Summary Scorecard's the president created. When people become aware of exactly what their responsibilities are they are apt to perform better. That's the principle behind Pearson's Law.
Yet to engage their hearts and minds together requires more. It requires that lifting purpose Herbert Hoover described. Business is dependent upon people. Jim Collins first principle in Good to Great is, "First who then what!" To truly achieve success your business needs a purpose and values that your people can embrace. Don't allow your business to be shallow. Put your heart and soul into developing these critical success tools and watch your people and your business soar in 2013.
If you're interested in discovering just how your culture is currently, you may want to have you and your leadership team take Patrick Lencioni's Organizational Health Survey based on his book The Advantage. It will allow you to see how well your business is currently doing in this critical area of your business.
Let's take a look at the power of accountability and the value of creating a Topgrading Job Summary Scorecard for not just the hiring process but to serve as a tool for grading and reviewing your teams performance in our next blog.