On a scale of 0-10 how would you describe your desire to improve your business?
How do you demonstrate this desire and what actions are you taking to realize this earnestness to improve your business?
At Positioning Systems we describe our ideal customer is: A small to midsize business owner/CEO with a ravenous appetite to improve his/her leadership skills and financial performance.
Is your desire to improve your business ravenous or just so-so?
How clear is your vision for your company?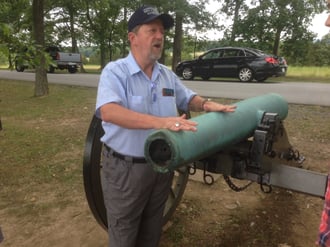 Last week at Gettysburg my family hired a Licensed Battlefield Guide to tour the scene. One of the interesting insights our guide, Dave, offered was the difference in the two approaches the generals on opposing sides had.
In Confederate General Robert E Lee's case his objectives were more ambiguous. He was to engage the enemy, defeat them, to turn Northern sentiments against the war. His objective was to force President Lincoln to pursue a path toward peace.
General Meade on the other hand was to defend Washington DC and Baltimore from falling into the hands of the Confederacy.
Being clear about objectives made a significant difference in the outcome of the battle and the decisions each general made in the ensuing battle.
Can you see where Meade's objectives were easier to understand? Our guide also pointed out that despite the victory, President Lincoln's grave disappointment with Meade in not pursuing Lee after the Union victory was to no small degree due to the objectives established prior to the engagement. (Meade gets criticism for not pursuing Lee and destroying his army when it was vulnerable. A letter from Lincoln [never actually sent] describes Lincoln's angst in Meade's failure and his fear of extending the Civil War.)
In Lee's case, the fatal assault by George Picket on July 3rd against the Federal's massed center on Cemetery Ridge was perhaps the only alternative Lee could see to reach his objective. Having attacked the enemy's flanks twice, sensing each had almost attained victory, he was convinced victory would be attained by pressing the Federal center.
Another significant event Dave pointed out is the difference in communication styles between "Stonewall" Jackson and Robert E. Lee. Jackson was Lee's ablest general's. His ability to command and maneuver his Confederate divisions made him invaluable to Lee's service. It's perhaps the major reason Leee had not lost a battle to his Northern adversary previous to Gettysburg. Stonewall Jackson died just before Gettysburg at the battle of Chancellorsville. It couldn't have occurred at a more significant juncture. Jackson's orders to his subordinates were always explicit. Our guide pointed out that they were so explicit that when an officer failed to follow them he was always held up for discipline. Lee orders were ambiguous or at the very least imprecise.
Lee gave his subordinates leeway. In the movie Gettysburg you can observe his order to General Richard Ewell on the first day of the battle on taking at Culp's Hill, "to take the heights if practicable."
Given Lee's suggestive orders and Ewell's service under Jackson prior to this engagement, we can forgive Ewell for not realizing the significance of Lee's order. It was far from specific as he'd been accustomed to receiving under Jackson.
This short history lesson is for the purpose of helping your recognize how clarity of purpose and communication are integral to achieving the results you want.
You may possess the greatest desire to succeed yet failing to establish a clear priority or objective and then falling short in delivering the message of this priority to your team effectively will produce consistent predictable defeat.
Great ideas poorly expressed and communicated will never provide the outcome you want.
What is your message to your customers? Are you clear what your promise is?
Can your team identify your business strategy in one sentence? Can everyone on your leadership team and their subordinating team identify what your priority is for the year and for each quarter?
Ask them?
What would you guess the result of that question would be?
Are you guilty of not expressing your intentions and communicating them with enough impact and frequency to deliver the outcome you want?
An Inc. Magazine survey revealed 92% of CEOs believe their leadership teams agree with and can communicate their strategy.
In Reality: The same survey discovered: ONLY 2% OF THE LEADERSHIP TEAMS COULD!
How do you harness your vision, your priorities and get your team to reach its objectives?
It's not easy, but nothing worth lasting value ever is.
The One Page Strategic Plan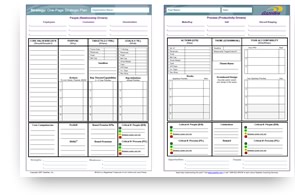 is your organizing tool for determining your priorities and getting everyone in your organization on the same page. More importantly the Quarterly Planning tools and Quarterly Theme building process are precisely what you need to get everyone in your company aware and contributing to your vision and objectives.
You may not always reach the outcome you want. With this focus and these tools you will make more progress on these priorities than you've ever made previously.
Is the history of your business littered the way the battlefield at Gettysburg was with unfilled promises, unclear objectives, and poor communication?
Let us help you achieve success. One immediate step to get started is to register for Scaling Up workshop in Cedar Rapids, Wednesday, November 11th. Download the flyer.
We'll explore the value of the One Page Strategic Plan, Quarterly Planning and Themes, and Brand Promise in our coming blogs.