Your business relies on new customers for growth. It's experiencing an increasing number of no shows for new customer appointments. You've tried a number of changes, and techniques to get your new patients to honor the first visit they've scheduled however nothing seems to be working. The loss of 1 or more appointments per day is a major reduction in efficiency for you and your staff to say nothing of the revenue loss.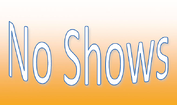 The bottom line on any system is discipline. You and your staff must have the discipline to document your systems and then follow the system each time to get the same consistent outcome. You must also have the discipline to track your results. If the system isn't producing the outcomes you want, tweak the system to improve upon it until it reaches the desired outcome. That's the value of documenting your system and flow charting it. You can see where changes can be made readily.
Using one of the techniques that Robert Cialdini discussed in his six persuasion principles, consistency, the chiropractor office that is the example in this case developed a system to dramatically decrease their no shows. In the first several weeks 24 new appointments were scheduled, only one didn't make their appointment, and they rescheduled and became a patient. From 15% no shows the previous month to virtually 0 in just weeks, all through small adjustments and the simple discipline of asking, "Will you please call if you have to change or cancel your reservation?"
The result of my client following the consistency persuasion principle could be the emphasis of this story. Certainly it's an important if not critical aspect of it. Yet you should not over look the importance of Strategic Discipline. Choose a priority, in this case customer no shows, discuss it in your weekly collective intelligence, make the desired changes, and then apply metrics to measure how well the system is performing. You won't always get it right as well as my chiropractic office did the first time. Indeed they had tried other methods and not seen improvement previously. In our meeting they had actually planned to offer a 10% discount to new customers to show up 15 minutes early. They decided to add that if the new script didn't work, and have never had to implement it.
Small things in business can add up. Someone once said don't sweat the small stuff. I believe that is true to the same extent that Jim Collins quote is. "People are not your company's most important asset. The right people are!" The right small things can have a major impact on your business. Especially those areas of your business that are crucial [You should have your most crucial systems identified in Work Process Flow Charts] to your success. They absolutely need to be detailed, documented and measured religiously. Getting new customers to show up for their appointments added thousands to this businesses revenue. What critical system in your business could do the same or more?