Who helps our children to make good choices? Every one of us is touched by a story of a young person who's been involved with a tragedy caused by texting or using a phone while driving, alcohol abuse, teen pregnancy, or drug dependency. Young people, especially middle school and high school students, are impacted by so much in the world today that the impression we as parents or adults can make on them is more limited than ever. How do we reach these young minds about the importance of making good decisions in their lives?
One of my clients, Roger Vorhies of Schaus Vorhies Construction introduced me to an organization Sports World that is working to help young people make good choices. With two children ages 12 and 15, and given my businesses focus on strategic discipline it was an easy choice to join Roger to help sponsor a local effort in Cedar Rapids to bring Sports Word to our community.
Together with a local sponsor, Sports World brings in former NFL players to speak at school assemblies to share personal life experiences with students. The Pro speaks for approximately 35-45 minutes, and will stay after the assembly to talk with students and hand out an autographed player card. The program's main theme is that "You're Not Born a Winner, You're Not Born a Loser - You're Born a Chooser." The importance of morals, values, education, and proper decision-making is stressed along with a clear presentation on the dangers and consequences of drug and alcohol use. In some cases the pro tailors the message if the school has a particular issue that they want stressed. One of the schools in the Cedar Rapids area asked that our pro, Ken Johnson speak on leadership.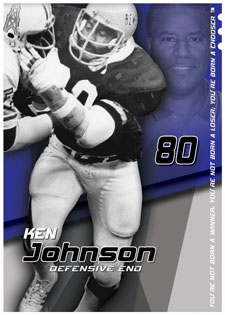 The school's activities coordinator felt the class Ken would be speaking to needed to understand the importance of leadership and how they as students have a responsibility to accept leadership and influence others. Near the end of the presentation, the pro shares in a non-threatening way how their personal faith in God has helped to overcome and/or avoid these issues in life.
If you're a reader of my blog you know that I've not asked for any contributions. I may ask you to consider the value of choosing Positioning Systems as your coaching choice, however I respect your privacy and know all of you have enough demands in your lives that you don't need another cause asking you to support it. Making the right choices, especially for students, is all about discipline. A short term choice can make a significant impact on a young person's long term future. Just as today's choices affect our business, Positioning Systems is making a choice to help influence young people's lives. I'm asking you to join me.
Roger, I and another friend, Dan McGovern, are responsible for funding the speaking engagement for Sports World. On October 5th through the 7th Ken Johnson will deliver the "You're Not Born a Winner, You're Not Born a Loser - You're Born a Chooser" message to approximately 2400 students in the Cedar Rapids – Fairfield, Iowa area. Please consider contributing any amount that you can to make sure we can continue this effort. You can make a donation by clicking here and including in the section designated Please specify Outreach Area: our outreach area which is Cedars Rapids/Fairfield, IA Outreach.
I don't want to abuse the privilege that you allow me to send these blogs on a regular basis so I will reserve this as an exception to my blogging. If you have received benefit from these messages I would ask you to consider contributing to this cause if you feel moved by the message it will provide. Thank you!
I recently became a grandfather and met my daughter in law for the first time over the past weekend. Some observations from my son's response to his new daughter reminded me of the value of focus in our business. More on that next blog.