Due to my health I've been unable to attend my son Noah's concerts until recently. Last Tuesday I had the opportunity to attend his high school's Fall Evening of Chamber Music. Watching my son provided a key insight into what drives business success.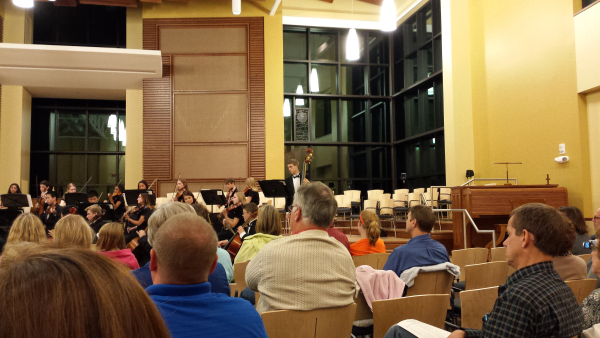 Click Here to Watch this Video
My son's performance put a big smile on my face. He made eye contact with us in the audience but by far the greatest joy came from observing how Noah moves with the music. He's in synch with each movements rhythm. At the conclusion of the concert I felt a tap on my shoulder, turning around a woman behind us asked, "Is that your son playing the bass?" My wife, Michelle turned around somewhat embarrassed and said, "You noticed him smiling at us?" The lady responded, "We just noticed how he moves with the music and how enjoyable it is to watch him!"
I couldn't agree more. We learned she and her husband have a daughter who plays with Noah and she's also a sophomore. We'll be able to enjoy their performances together for another two years.
As Gazelles coaches when we discuss People, one of the four decisions every business must get right to succeed, we offer the outcome of getting People right in your organization as a harmonious culture of accountability. Your people enjoy coming to work; they get along and most importantly are responsible for their performance. It's your business in harmony.
Wouldn't it be great if we could all spend our days working in perfect harmony with the people and functions we perform? I've written previously how your business can and should be like a symphony with you the conductor while the instruments of your business perform with consistency, predictability and uniformity.
Noah has a passion for music. A customer sent me a quote by Mac Anderson, "Find a purpose and your passion will follow." In Noah's case I'm not sure his purpose is yet connected to that passion. He's just 16. It took me until I was 40 to discover my purpose.
The key to success is living your purpose. Having a passion for what you do makes it easier to overcome any obstacle that arrives or presents itself as a barrier to your goal. It makes it easy to apply the Henry Ford's principle, "Obstacles are those frightful things you see when you take your eyes off your goals."
A very fulfilling part of my coaching is to serve as a catalyst to help businesses I work with to discover their Core Purpose. Several of my customers have found this to be a wellspring of energy, inspiration, and resourcefulness.
You may have struggled with this concept yourself. It took me until I was 40 to discover my purpose, and going through my challenge with Acute Myeloid Leukemia offered a deeper understanding and knowledge of how I should follow my purpose.
My oldest son, Dan, loved music as well, so much so that between his freshman and sophomore he learned to play the trumpet after playing the clarinet through high school. He also trained athletically in order to withstand the rigors and discipline of the Wisconsin Marching band. It was a proud moment to watch him perform on TV, Camp Randall and at Kinnick Stadium when the Badgers played the Hawkeyes.
Dan loved ships and constructing things. It's no surprise he's now in the field he loves, working for Military Sealift Command in Washington DC.
Joshua is in his 2nd year at Iowa State. He's struggling to find his major after choosing software engineering. He's chosen another road to follow this semester after discovering his passion for writing code isn't as great as he thought it was.
In Joshua's case and perhaps in yours or with your business the key is to continue searching. What's your passion? What can your business be best in the world at? Why did you exit, as a business and as a person?
Discovering your Core Purpose is key element to business success. It is central to the three rings of the Hedgehog Concept that Jim Collins describes in Good to Great. Discovering your Hedgehog Concept distinguished the Good to Great companies from their comparison competitors.
If all this discussion about passion and purpose feels too soft and squishy to you, preferring the logistic, analytical, and reasoning side of the business, then consider these quotes:
"People want to work for a cause, not just for a living. When there is alignment between the cause of the firm and the cause of its people, move over—because there will be extraordinary performance."
- William Pollard, author The Soul of the Firm
"..business needs a lifting purpose greater than the struggle for materialism."
- Herbert Hoover
"Without a compelling cause, our employees are just putting in time. Their minds might be engaged, but their hearts are not. Meaning precedes motivation."
- Lee J. Colan
Perhaps you need a more prominent name and authority like Socrates credited as one of the founders of Western philosophy, "The unexamined life is not worth living." Or possibly the list of companies with a meaningful purpose (download here) will consider the value of this tool.
People and businesses that tap into the passion of themselves or the people that work for them always succeed beyond the levels of their peers. Does your business have this drive, this passion, and purpose to achieve? Are your people driven by a nobler cause?
The next time you observe someone performing with passion, ask yourself how deep your convictions and commitments are? Perhaps the difference between you, your business, and those who you wish to surpass is the absence of a purpose defined or exercised in your company.
Positioning Systems is committed to bring best practices and top thought leadership to you If these ideas appeal to you and you'd like to discover how to implement them in your business attend the Mastering the Rockefeller Habits Four Decision Workshop. Find a list of the agenda for this event here. Download the Mastering the Rockefeller Habits Four Decision Workshop flyer. Register to attend this event November 12th in Cedar Rapids.