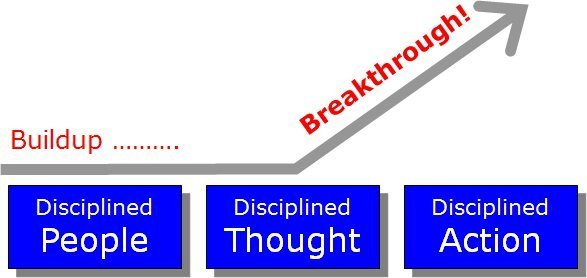 This week I met a former customer to discuss how his team was doing without having a coach facilitating their meetings. While he indicated they'd maintained the cadence of accountability of meeting rhythms, he noticed a number of concerns he felt my presence would improve and wished to discuss working together again to help elevate his leadership team's game. Here are some of the highlights from that discussion:
My customer asked not to have his name revealed in recounting one of the mistakes his company made. We've worked together several times, starting with several Mastering the Rockefeller Habits 4 Decision Workshops, quarterly planning sessions and then last summer for six months to help them develop annual, and quarterly plans as well as develop the meeting rhythm cadence of accountability.
My customer indicated that since January they've worked through their meeting rhythms doing a good job of maintaining their discipline of daily huddles and weekly meetings. Where he feels they've fallen down a bit is how stringent they are on their accountabilities and meeting their quarterly priorities. He feels without Doug there to ask the tough questions they aren't extending themselves to achieve any more than what they are comfortable doing. He feels they are limiting their growth by not having another set of eyes to objectively rate both their effort and their achievement. Another limiting factor is the collective intelligence time along with learning and education.
The meetings lack some of the intensity and breakthroughs they had with a coach leading them. They've not been conducting the learning and education portion of the meetings to impact their leadership skills. They've also not completed the elements of their One Page Strategic Plan and Strategy, components they all agreed in their Annual Planning meeting they needed to focus on in order to grow revenues in 2014.
The value of questioning your team's accountability to their priorities and responsibilities is not lost on another of my customers who asked me to develop a series of questions to ask each time one of his leadership team members is falling short of meeting one of these objectives. If you'd like help asking the right questions to discover why someone is falling short and how this failure will impact your business, request the free download below.
Most impactful is an event that made my customer realize the importance of accountability and identifying and following systems. The business is a construction company, and through the growth and development of the two owners they've also created several other businesses including a rental company.
Recently they had a construction job out of state which required renting equipment to meet the job requirements. The job was completed and when they reviewed the costs they discovered they'd lost money on the contract. After reviewing receipts they discovered the primary cause of the loss was the expensive rental costs for equipment. Apparently no one had taken time to review the rental bills to discover the rental company had overcharged them for their equipment. Unfortunately when the bill came to the desk of the partner in charge of paying them he naturally assumed they'd been reviewed and approved and paid them before anyone could catch the gross overcharges.
As owners of a rental company themselves they could easily see they were being charged one time rates versus rates usually charged for days, weeks and months for actual use of the equipment. Yet no one had bothered to review the bills or monitor the invoices for excessive charges as they arrived.
My customer estimated they overpaid in excess of $50K for the equipment rentals.
As a coach I'm not sure that even had I been working with them I'd have been able to help them with this issue. However we have discussed and planned to identify the 7-9 Work Process Flow Charts. These are your businesses critical systems that differentiate it from your competition and require you to identify accountabilities and metrics to ensure they are always running consistently and predictably. Having these in place surely would have identified the overcharges by the person accountable when the invoices arrived, and alerted them to contact the rental company for appropriate charges.
$50,000 in overcharges on one job he noted is embarrassing! To his credit he was more than willing to accept his portion of the blame for this occurring. The positive from this is he realizes a lot of the margins they are challenged to achieve are correctable. They simply need to be more disciplined and systematic in their approach.
Most challenges like these are preventable when the right systems are in place. Identifying the 7-9 crucial systems that your business relies on to perform to its highest level is essential to developing consistency and predictability in your business. That's how growth is achieved year over year. Disciplined systems, operated by disciplined people.
As Jim Collins states in Good to Great, "A culture of discipline is not just about action. It is about getting disciplined people...who engage in disciplined thought and...who then take disciplined action."
Collins also said, "Everyone would like to be the best, but most organizations lack the discipline to figure out with egoless clarity what they can be the best at and the will to do whatever it takes to turn the potential into reality."
Is your business struggling to achieve what it's capable of? The role of coaching is to provide accountability and questions, questions that you're not asking. Questions that explore the potential of your people, your strategy, your execution, and your cash decision making. Mastering the Rockefeller Habits provides the disciplined tools and resources from best business practices and top thought leadership.
Is it time for you to consider what it takes to achieve the greatness your business is capable of?
On April 29th Mastering the Rockefeller Habits Four Decision Workshop will explore fundamental tools and resources to help you achieve greatness. Plan now to attend. Or request the flyer for more information.