Last newsletter I shared an example of someone who is paralyzed making decisions.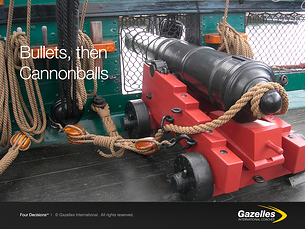 This week an example of a company that isn't afraid to have conflicts in their leadership meetings and follows rules from Jim Collins Great by Choice when making decisions. Discover what you can learn from their methods.
My client is a large distributer approaching $50 M in revenue this year and despite having over 100 employees keeps its leadership team confined to three team members. In the past month discussions in our weekly meetings have surrounded the need to get product to customers more efficiently while ensuring product introductions and POS items arrive on time. With two locations there's been an effort to consider reducing distribution at the smaller location and taking on expanded efforts to fulfill distribution at their larger warehouse and home office.
In one of our meetings the CFO presented a sound case for expanding the major warehouse distribution while cutting back at their other location. A debate raged about these efforts with the CFO and Sales Manager endorsing this effort while the President urged a more conservative approach taking time spent to analyze the results and forecasts before moving completely in this direction.
The discussion involved a great deal of conflict and no one was afraid to present the brutal facts that supported their position and refuted the opposing views theories. It's a perfect example of a leadership team that lives the triangle from Patrick Lencioni's Five Dysfunctions of a Team. Each leadership team member is perfectly comfortable with who they are, what their strengths and weakness are, and are uninhibited to present their case despite the strong opposing views and the strength the owner/president possesses because his name is on the company.
Both the CFO and Sales Manager stuck their chins out to powerfully demonstrate their points of view. To each persons credit they aren't afraid to represent their opinions and no one's attempts to refute their arguments ever became personal despite the emotionally charged point of view sometimes expressed.
When a clear decision couldn't be made the group settled for continuing discussions to determine the right outcome for this situation.
During this discussion, when the President called for an approach that represented talking a half-step and waiting to see how this would affect performance and efficiency, I called to mind a quote from military expert, Karl von Clausewitz who stated, "Many assume that half efforts can be effective. A small jump is easier than a large one, but no one wishing to cross a wide ditch would cross half of it first."
Both the CFO and Sales Manager used this to support their data noting that a half step might only achieve enough to prove it didn't work since only when all measures were established and functioning could a true appreciation of the cost-savings, impact on efficiencies and even morale building elements be truly determined.
We closed that weekly meeting with the plan to revisit it again in our next weekly meeting. After that meeting I'd been reminded of Jim Collins practice of 10X companies in Great by Choice to "fire bullets, then cannonballs."
According to this concept, companies that achieve great success (10X are companies Collins identified as high-performing study cases with the moniker "10X" because they didn't merely get by or just become successful. They truly thrived. Every 10X case beat its industry index by at least 10 times.) are not necessarily more innovative.
What Great by Choice concluded is that each environment has a level of "threshold innovation" that you need to meet to be a contender in the game; some industries, such as airlines have a low threshold, whereas other industries, such as biotechnology, command a high threshold. Companies that fail even to meet the innovation threshold cannot win. But- and this surprised Great by Choice authors- once you're above the threshold, especially in a highly turbulent environment, being more innovative doesn't seem to matter much.
The companies in Great by Choice that achieved this "10X" level of performance replaced the mantra of "innovate or die" with the more useful approach of: fire bullets, then fire cannonballs.
The idea of firing bullets before cannonballs is simply this. First you fire bullets to figure out what'll work. Then once you have empirical confidence based on the bullets you concentrate your resources and fire a cannonball. After the cannonball hits, you keep 20 Mile Marching to make the most of your big success. (The 20 Mile March is a concept we will explore in a blog this week, watch for it).
What the President of my client company proposed is the present decision is a situation to fire bullets and then once the evidence supporting this decision is accumulated, then the company can fire a cannonball and move in that direction.
The discussion ensues. The question perhaps is can bullets be fired that provide enough data to support a decision for moving forward or not? Or is it required to go all in with the decision to achieve enough data that it is working? It would seem that the latter would require a full jump over the stream which would not support the bullets then cannonball concept. The president of the company only had to go back one year to offer a similar decision where moving full ahead with a decision resulted in a poor decision that cost the company considerable money and didn't lead to the outcome they'd hoped it would produce.
The two important lessons to consider from my client's evolving situation:
In your business is your leadership team able to offer their opinions and feelings about critical decisions without fear that they will be heard and that their input will matter? This is more a question about whether or not they feel they can offer their opinion as much as having an opinion. Does your leadership or someone else's dominance in your leadership team meetings prevent others from contributing?
Do you understand and follow the concept of "fire bullets, then cannonballs" in your decision making process?
Fire bullets then cannonballs is a critical differentiation from the "10X" companies to the comparison companies in Great by Choice. Is this a practice you follow, and if not is it something to incorporate into your decision making policy?
If your leadership team is not able to offer their opinions freely in your meetings you need to examine why and make a concentrated effort to prevent this from continuing. Not getting the opinions, feelings, data and input from leadership team members can not only hold your business back, it can lead to poor decisions made by a lack of critical thinking and sound data that is being suppressed.
This issue can be addressed by doing the fieldwork in Patrick Lencioni's Five Dysfunctions of a Team. In this case we'd recommend bringing in an experienced facilitator to ensure the problem isn't perpetuated by performing this workshop without complete objectivity.
Decision making in business is a critical step. More businesses fail due to poor decision making than poor execution. Making decisions requires good information. Failing to take advantage of the resources and knowledge base of your leadership team simply because they don't feel they can offer their input is fool hardy. Adopt the "Fire bullets, then cannonballs" approach and make sure your leadership team is comfortable offering their opinions without fear of reprisal or put downs in order to achieve better decision-making.