Execution is critical to your business. Many business experts feel it is the most critical element to business success. How do you measure what's most important however?
While execution is critical, Top Thought Leaders like Peter Drucker believe decision making determines the success or failure of a business.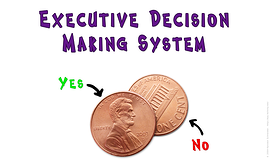 That means strategy decisions are essential. Unless you execute properly you will never have time to properly invest enough time in strategic thinking. That's why Positioning Systems places emphasis on implementing Strategic Discipline first for most of our customers.
Leadership that fails to get execution working properly never has time for strategy development. They 're always fighting the "Whirlwind."
Your Leadership responsibility is to make sure you are executing properly and making time to strategize your company's decisions.
A leader who doesn't have time to make the right decisions is no better than a leader who can't make decisions.
Let's explore an example of leadership when it can't make decisions.
First, a quick reminder of the four factors that make business decisions difficult:
Lack of information
Timing differences between alternatives
Uncertainty about the possible outcomes of the decision
A decision maker with an indecisive personality
We may wish to include a decisive and malingering factor every business faces, "The Whirlwind."
The real enemy of execution is your day job! The Four Disciplines of Execution call it the whirlwind. It's the massive amount of energy that's necessary just to keep your operation going on a day-to-day basis; and, ironically, it's also the thing that makes it so hard to execute anything new. The whirlwind robs from you the focus required to move your team forward. Leaders seldom differentiate between the whirlwind and strategic goals because both are necessary to the survival of the organization.
Please read Execute Meeting Rhythms – A Cadence of Accountability to understand the different layers and current employee statistics preventing effective execution. They include:
People simply didn't understand the goal they are supposed to execute.
Lack of commitment to the goal
Lack of Accountability
There are two principal things a leader can influence when it comes to producing results: your strategy (or plan) and your ability to execute that strategy.
A past customer of mine is in a prime position to capitalize on opportunity. The business built a heritage in its industry, growing to just under $10M, the revenue ceiling where competitors begin to notice you. They are in an exceptional position, owning the building they manufacture from (worth millions), no debt, good cash flow, and capital to invest. They've been willing in the past to seriously pursue mergers and acquisitions to grow their business.
What they don't have is a harmonious and decisive leadership team, nor a willingness to strategize and plan for the future.
The leadership member I worked with manages sales & marketing, administration, purchasing & delivery. It is a family operation with two brothers managing the manufacturing side.
For years my client determined he would run his business like McDonalds believing the system is the solution. Unfortunately his systems do not measure and document to the level McDonald's achieves. His managers do not manage the system to any measureable standards. Metrics for performance are not in place, in part due to my client's refusal for a long time to hire better managers. When he paid more (seldom) he simply felt he got the same results. He's failed put an effective hiring and recruiting process in place to help him identify and hire "A" players.
As many times as we set the table to choose a priority, build a dashboard, and monitor (meeting rhythms) progress he always allows the "whirlwind" to overtake him.
He repeatedly asked me what his priority should be. That's not the solution. He needs to take ownership of whatever his priority should be. He's indecisive because he feels they are all priorities. As Verne Harnish notes in Mastering the Rockefeller Habits, "A company with too many priorities has no priorities."
He needs to decide. When he has made a choice, hiring and recruiting (3x), Marketing (2x) and Meeting Rhythms (1x) he has always had an excuse why he couldn't maintain the discipline to achieve his desired outcome.
My customer believes he suffers from ADD, which prevents him from concentrating – yet he has demonstrated discipline to train, compete and finish triathlon events.
What prevents him from choosing and sticking with a priority in his work environment?
It could be the issues discussed in Will Business Coaching Work for you?
My client asks often for advice and input, he rarely acts upon it. He tends to vacillate between believing he is exceptional to having no confidence at all. Believe me from working with him there is no lack of competency. If he were able to concentrate on One Thing for any length of time I'm confident his results would amaze him, his team, and his partner brothers.
Bottom Line: Despite all these challenge it's only in the past 6-9 months that the company suffered any downturn in revenue. However the point of this newsletter is to give your attention to the big picture.
Businesses fail not through poor execution. Businesses fail due to poor decision making. In this case a lack of decision making.
A leader who is indecisive fails to choose priorities. In this case the business risks losing the heritage position the company enjoys. Worse consequence for not being decisive is how it affects the future. Strategic Discipline puts you in a position to have time to strategize properly. To plan for the future. Choose to execute properly and you will be in a position to make good decisions because you have the time to strategize and view the competitive landscape.